Wednesday, 08 June 2011 11:30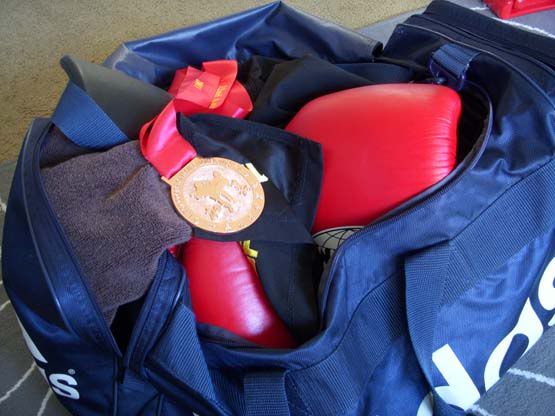 Greg Schoen is the world's oldest whitebelt.  He's training for his first Muay Thai fight and will share his experiences right here as he prepares for his fighting debut.  This is the final installment of a four part series. Click here for the previous articles:  Part 1 and Part 2 and Part 3
** **

On May 29th I had the opportunity to compete in a modified amateur Muay Thai tournament and I can honestly say it was the most fun I have ever done in regards to the Martial Arts. The day was beautiful, a perfect sunny day devoid of clouds, and while I was driving to the tournament site it seemed like every song that came on was devoted just to me. My motivation was at an all time high and even though finding a parking space was a bitch I got to the registration desk with plenty of time to spare. The only thing I was worried about was my weight.
If you can remember about four weeks back I weighed in at around 185 pounds. I needed to cut that down to 179 to 181 to be able to compete in my target division of 171-181 pounds and I was worried I wasn't going to make it. The weigh-in's were to be done the day of the competition so any attempts by me to do some sort of wrestlers weight cut were null and void, not that I know how to do that stuff anyway, but I have found in the past that necessity is the mother of invention, but I digress.
After I found the rest of my team mates who were all competing in lower weight divisions I went to weigh in and was pleasantly surprised to find that I came in at a perfect 179.8 pounds. After that I did what all competitors do at tournaments like this one, I hurried up and waited. Fighting in a tourney is a lot like acting. You get to the set, prep everything, shake out the cob webs and sit patiently for hours before you are called to get in front of the camera and put it all on the line. Well, usually that just kills me. I get nervous and either warm up too much or get cold and just freeze up mentally and physically. But this time? Nothing. It was awesome. I was calm and relaxed all the way up to when I was standing across from my opponent in the silver medal match.
The fight for the silver was quick and dirty. I came out, blew my load landing five punches and a high kick to my opponents head, and then something happened that I had never experienced before. I ran into a wall that knocked me on my ass and sent the floor underneath me spinning like an amusement park ride. It was the weirdest thing I have ever experienced in my life. I was thinking that when the ref spoke to me, looked in my eyes and declared my opponent the winner. I was stunned. Had this really just happened? Had I really just been technically knocked out? Sadly, the answer was yes.
Now, you might think ending my day at the tournament like that would have soured me on kick boxing but the truth couldn't be more different. After my final match all of my team mates were very supportive and each of them just brushed off my loss like it was nothing. "It happens" and "at least you got in there" were words I heard repeatedly for the last hour while I watched the rest of their fights. Those words meant a lot to me because of the embarrassment I felt at the time and they have stuck with me over the last week as I have reflected on what I experienced. I look forward to competing again and next time I think I might just know enough to bring home gold.
So after all of the training in leading up to the fight and the actual experience of engaging in stand up battles with trained opponents what did I learn? That is after all the point of this series, right? Well, I can tell you this. Fighting Muay Thai was really fun and a lot more technical than when I did the modified MMA tournament three months ago. Stand up fighting just seems much more efficient to me now. Grappling has its place, that's for sure, but now that I can throw a decent punch I don't think I would ever go for a takedown if I was attacked on the street. I also really liked the pace of the fighting compared to wrestling or Jiu-Jitsu. Unlike in those sports nobody was trying to "point" their way to a win. The most significant lesson I am taking away with me from this experience is that I am not invincible. I was cocky going into my final match and I got clipped with an overhand right that I didn't see coming. I won't make that mistake again and to tell you the truth I hope that the guy who rang my bell is in my division next time so I can pay him back when I compete again in the fall. Petty, I know, but what the hell. A little more motivation can't hurt, right?
And that's it folks. The world's oldest white belt fought in his first stand up competition and came away with a bronze medal for his efforts. Not too bad for a month's work, huh?