Friday, 08 July 2011 13:42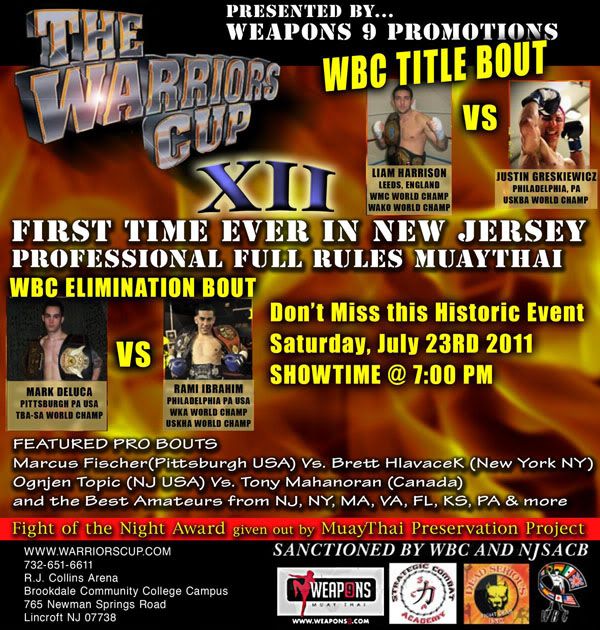 Big news for combat sports fans: for the first time ever, professional Muay Thai is coming to New Jersey.  Warriors Cup XII, presented by Weapons 9 Promotions, will take place on July 23rd, and will feature some of the best professional and amateur Muay Thai fighters in the world.  The main event, sanctioned by the WBC, features two world champions vying for the WBC world title. Liam Harrison of England takes on Philadelphia's own Justin Greskiewicz in a bout that is sure to have the RJ Collins Arena rocking.
This is a historic event that will usher in a new era of combat sports in New Jersey and on the East Coast.   Promoter Christian Tran is excited to bring professional Muay Thai to the Garden State in order to give the world's best pro fighters a chance to compete in the sport they love.
"Our show," said Tran, "has been, is, and always be about Muay Thai and the fighters and trainers that commit themselves wholeheartedly to this beautiful combat art.  We do not consider ourselves 'promoters' but rather true fans of the sport."
This show will be a sold out quickly, so jump on the opportunity to get tickets right away.  I will be at the Arena hosting the event from inside the ring, and hope to see everyone there.  Come be a part of combat sports history!  See you on July 23rd!