Thursday, 23 June 2011 09:45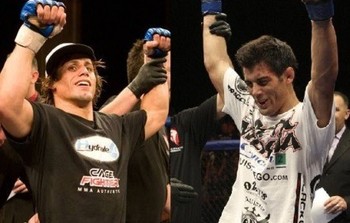 Urijah Faber and Dominick Cruz do not like each other.  And on July 2, they will have a chance to express their dislike by beating the crap out of one another.  On Tuesday's UFC conference call, both men talked about how they feel going into the fight with an opponent that they dislike.
Urijah Faber:
I've never been an emotional fighter, but that's because I usually feel kind of indifferent or like the guy I'm fighting.  But in a real situation if I were to fight, the only reason I'd fight is if I don't like somebody, so it really makes it easier.

 

I'm sure we'll shake hands and get on.  Beating the crap out of each other is pretty good therapy.
Dominick Cruz:
I do a pretty good job of not making it emotional in my brain.  I'm not real fond of Faber but at the same time, once  I get in a fight I fight just as hard with somebody I don't like as somebody I have no problem with.  Once I get in there it's not a big deal.  I just go in there and do my job and just beat the crap out of whoever's in the cage with me.

 

The way I feel about it is, once you fight somebody, it is what it is.  You kinda get in a moment when you're in a fight.  You find out a lot about each other when you get in a fight.  We'll see how the fight goes.   I feel like that's one of those things you just take in stride.  At the end of the fight, we'll see how each other will look.  We'll see if each other can walk, we'll see if each other can talk.  I'm just gonna take it in stride.