Monday, 27 June 2011 12:17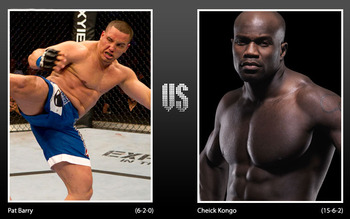 After Nate Marquardt failed his medicals and got booted from both the card and the UFC on Saturday, Cheick Kongo and Pat Barry found themselves in the main event of the evening, and they took the opportunity to put on one of the most amazing fights in UFC history.
Barry had Kongo on queer street, and it looked as though referee Dan Miragliotta was going to stop the bout.  But Big Dan determined that Kongo was not quite out and was still fighting back.  On the commentary, Joe Rogan was already starting to question Dan's decision to let the fight continue, but then Kongo landed two right hands that put Barry out cold, thus producing what is being called the greatest comeback in UFC history.
Great reffing by Big Dan Miragliotta!  And great composure by Cheick Kongo, who took everything Pat Barry had and still came back to turn the tables.
Check out a GIF of the "Comeback" after the jump.