Saturday, 28 January 2012 10:08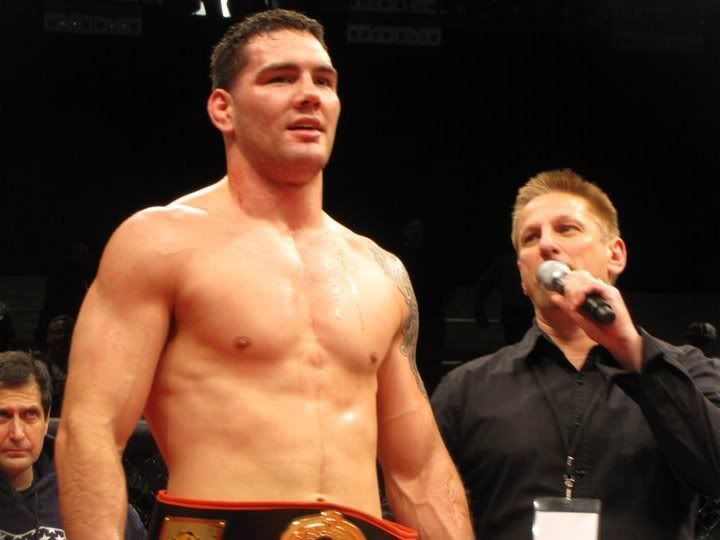 Chris Weidman continues his UFC ascent tonight by taking on top ten contender Demian Maia at the UFC on Fox 2 event.  Chris is a late replacement on the card after fights got juggled around due to Mark Munoz getting injured.  Originally Chael Sonnen was going to fight Munoz, while Bisping took on Maia.  When Munoz went down, the UFC made the decision to put Chael and Bisping in a fight to determine Anderson Silva's next opponent for the UFC MW title.  This move left Maia with no opponent.  Rusiamar Palhares was offered the fight but declined, which opened the door for Chris Weidman.
Weidman is undefeated and has been on a tear his whole MMA career.  Like so many other East Coast fighters, the Long Islander got his start at Lou Neglia's Ring of Combat in Atlantic City.  In just his third fight ever, Weidman knocked out highly touted Uriah Hall to win the ROC championship.  One fight later and he got the call from the UFC.
In his first UFC fight, he was in with fearsome puncher Alessio Sakara, and Chris looked great in a dominating performance, winning by unanimous decision.  He finished his next two UFC fights in the first round, both by submission, to set up this fight with Maia.
In one online poll I've seen, Maia was polling at more than 2-1 to win tonight, but I am confident that Weidman will win this fight, and look great doing it.  Maia is a phenomenal BJJ player, and his stand up is much improved.  But Chris Weidman is just as well rounded.  His wrestling is extraordinary, and he's been working his stand up with legendary Long Island trainer Ray Longo.  Ray has done a great job with Chris's striking, and it has really improved his overall game.  Chris also trains with Matt Serra, who is a BJJ blackbelt himself, as well as former UFC champion, so nothing Maia does tonight should surprise Chris.
I see the fight playing out mostly on the feet.  Both guys have great ground games, and we might see a chess match on the mat, but more likely is that both guys keep it standing, with the result being a 3 round decision victory for Weidman.
This fight could very well put Weidman into the top ten of the UFC's middleweight division.  It's a great opportunity for Weidman, despite the fact that he had to drop so much weight so quickly that he found himself hallucinating, something he talks about in the following video with Kristen Brown.