Friday, 29 July 2011 12:30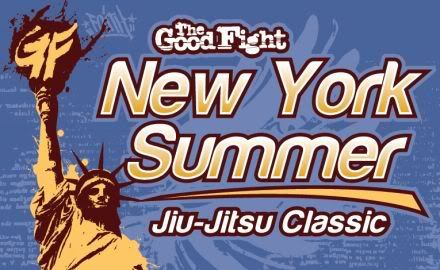 This Saturday, July 30th, 201, "The Good Fight" brings BJJ and NoGi grappling to The Sports Arena  in St. James on Long Island.  Long Island's Top MMA/BJJ schools will be looking to lock it up and see what academy is on top of its game!
The New York Summer Classic has kids, teens and adult classes. Each class has different divisions ranging in experience to make sure each bracket is on an equal playing field (mat). This event also includes Gi division's, which you can enter accordingly based to your belt rank.
Sandbagger's beware! Lying about years of experience, wrestling background or level you really are will be pointed out, and probably be disqualified from the event. Challenge yourself! Facing a great jiu-jitsu practitioner is much more valuable than destroying everyone and winning a bracket you shouldn't be in. No need for cowboys in BJJ.
This should be a great afternoon on the island, I look forward to seeing the results of the tournament and seeing how my fellow teammates and friends do. Good Luck Everyone, GO GET 'EM!
For more information click the link below;
http://www.thegoodfight.tv/new_york_jiu_jitsu_summer_classic.html