Tuesday, 20 March 2012 09:34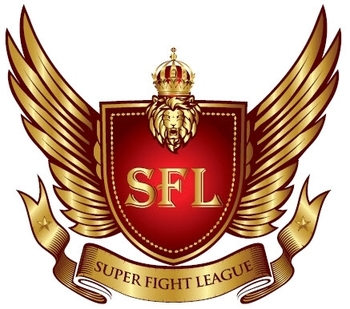 Press release:
India's First MMA Organization

Super Fight League

is proud to announce the following fights for SFL 2:

Todd Duffee V Neil Grove
Paul Kelly V Gabe Ruediger
Alexander Schlemenko V Ikuhisa Minowa (Minowaman)

SUPER FIGHT LEAGUE 2
Chandigarh
Saturday 7th April

. FULL EVENT LIVE & EXCLUSIVE AT YOUTUBE.COM/SFL

(Mumbai, 20th March) Following the sell out success of SFL 1, India's first MMA Organization Super Fight League (SFL) is proud to announce the following fights have been confirmed for SFL 2 taking place on Saturday 7th April: Todd Duffee V Neil Grove, Paul Kelly V Gabe Ruediger and Alexander Schlemenko V Ikuhisa Minowa (Minowaman).

Once again, fans from all over the world can tune in and watch the event live and free on the official SFL YouTube channel: YouTube.com/SFL.
Todd Duffee is a veteran of the UFC and DREAM and still holds the distinction of the fastest ever knock out victory in UFC history when he beat Tim Hague at UFC 102 in 7 seconds. A fearsome striker and talented wrestler, Duffee brings his explosive style to India for the first time and will need all of his skills when he faces UK based South African Neil "Goliath" Grove at Super Fight League 2. A Bellator Season 5 Heavyweight tournament semi finalist and former UCMMA Heavyweight champion, Grove also holds a victory over James "Colossus" Thompson, who beat Bob "The Beast" Sapp at SFL 1. His impressive record features 11 victories, all of which have come via KO or TKO. While nothing is ever certain in MMA, you can bet on fireworks when these two heavy handed fighters meet inside the O-Zone.

Former WEC Lightweight champion Gabe Ruediger had it all, lost it then through grit and determination got himself back to where he wanted to be. Winning 9 straight fights to take the WEC title, Ruediger missed weight on the Ultimate Fighter reality show and left the UFC under a cloud. He went on to put together 6 fight win streak to force his way back into the UFC and proved his doubters wrong. A BJJ black belt and renowned submission specialist, Ruediger also has a number of TKO victories on his record making him a very dangerous man no matter where the fight goes. Two time "Fight of the Night" winner while with the UFC, Paul Kelly doesn't know how to have a boring fight. The native of Liverpool in England always brings a fearsome edge with him to his fights and likes nothing more than a tough, brutal war with his opponents and revels in pleasing the fans almost as much as he enjoys winning. Previously due to meet at UFC 123, an injury to Ruediger forced the bout to be cancelled. Now they will finally meet under the Super Fight League banner, where Ruediger Vs Kelly promises to be a high class technical battle packed full of excitement and explosiveness.

Alexander Schlemenko has 44 wins despite being only 27 years old. The Bellator Season 5 Middleweight tournament champion has won fights by almost every method there is, with KO victories littering his record alongside several submission victories too. Primarily a striker, Schlemenko has no fear of the ground either, winning the Bellator season 5 tournament by beating 2 time BJJ world champion Vitor Vianna. Currently riding a 7 fight win streak the Russian is only just entering his prime fighting years despite already having more wins than fellow Russian and MMA legend Fedor Emelianenko. Japanese MMA legend Ikuhisa Minowa or "Minowaman" as he is better known, knows no fear, regularly competing in open weight bouts where his opponents vastly outweigh him. Despite being a natural Middleweight, Ikuhisa, a veteran of 93 bouts, entered and won the DREAM "Superhulk" tournament, beating 330lb SFL 1 headliner, Bob "The Beast" Sapp, in the opening round, 7 foot giant and K-1 striker Hong Man Choi in the semi final and then Pride FC legend Rameau Thierry Sokoudjuo in the final to take home the belt. A legend in Japan and beloved by the fans, Minowaman has incredible grappling skills to go with his fearsome stand up. Schlemenko versus Minowa promises to be a thrilling showdown between two of the most experienced and athletic fighters currently competing in mixed martial arts and one nobody will want to miss.

SFL CEO Ken Pavia said: "I couldn't have been more pleased with the results of our first event. The Indian fans were gracious and electric. The event was grandiose and unique, not cookie cutter as some organizations have become. The response from the international community was very supportive. The line-up we have put together for SFL 2 shows a continued commitment to bring competitive elite level fights to an international stage for free on behalf of the new and present Indian MMA community. Look for big news in 2012 from the Super Fight League."