Tuesday, 23 August 2011 12:08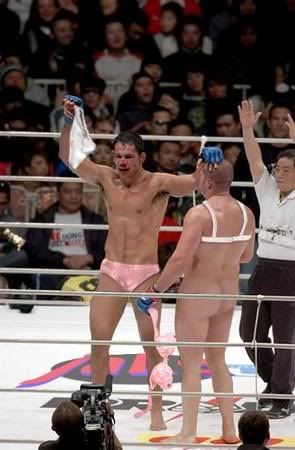 A RearNakedJoke.com Exclusive
Antonio "Big Nog" Nogueira, the Brazilian MMA legend, caused quite an uproar recently when he said that he'd rather not train with gay people.  In an interview with UOL Sports, (translated by Tom Mendes of Bloody Elbow) Nogueira said:
"I have no prejudice against the gays, but I wouldn't train with someone who's gay.  I have no malice, I don't take our physical contact as (something) sexual.  But what if the gay person has that malice of having physical contact with me, of staying there grappling?  I would have no problems having a gay student in my academy, but I would rather not train with him."
This statement set the MMA blogs and forums on fire, and there has been much discussion about the topic.   Now, in an exclusive interview with RearNakedJoke.com, Nogueira sets the record straight.
"I have my reasons for not wanting to train with gays," he told our Brazilian correspondent.  "And it goes back to Japan.  It's very difficult to talk about, but the truth must be known."