Monday, 08 August 2011 11:26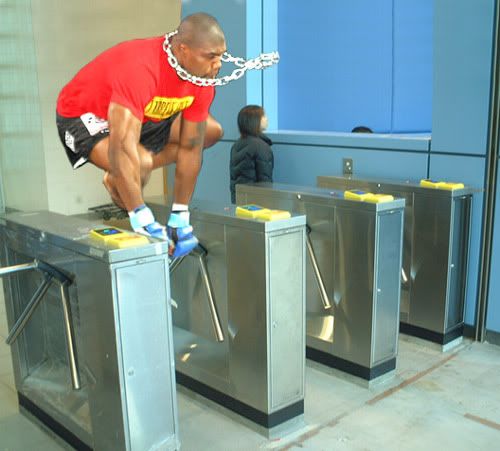 A Rear Naked Joke Exclusive:
More legal woes for UFC light heavyweight title contender Quinton "Rampage Jackson" as surveillance footage from  a Los Angeles subway station shows the legendary fighter attempting to avoid paying the fare by jumping over the turnstile.  Fare-beating is a class 3 misdemeanor is California that carries a one hundred dollar fine.  Due to the fact that the perpetrator is known to be Rampage Jackson, an All Points Bulletin has been issued.
Although California authorities are urging the former UFC champion to turn himself in and face justice, the department spokesperson we spoke to seemed sympathetic to his plight. "We're encouraged by the fact that he's using mass transportation rather than actually driving,"  she said.  "But he still needs to pay his fare."
Still unknown at this time is why Jackson was riding the subway while wearing MMA gloves.   The question was put to UFC president Dana White at a hastily called press conference.
"Am I concerned about the gloves?  Yeah, I'm concerned.  Here's the thing:  those gloves are not UFC gloves, okay?   They're some other brand.  And that brand never paid their sponsorship fee.  Well guess what?  Nobody gets a free ride.  If you don't pay, you don't play.  Rampage wearing those gloves?  That's fucking illegal."
"Will he be fired?" someone yelled from the crowd.
"Yes and no,"  Dana said.  "His fight with Jones is already set so we may have to wait until afterwards to  terminate his contract or not."
"What if he wins?"
"Yes and no."
A reporter stood up.  "Does Jon Jones know about this situation?"
"He does,"  Dana answered.  "In fact, he knew about it before me.  The authorities in California contacted him early on, asking him to help them capture Rampage.  They'd seen the footage of Bones single handedly subduing a band of bank robbing serial killers in New Jersey on the same day he won the UFC light heavyweight title."
The press conference was interrupted by Dana White's cell phone.  "It's Rampage," he said as a hush came over the crowd.   Dana held the phone against his ear, listening, a puzzled expression on his face.  The crowd of journalists surged forward trying to hear.  At first Dana didn't say anything, then he started repeating Rampage's name like he was trying to get his attention.  After another minute he shook his head, clicked off and put the phone back in his pocket.  He turned and faced the crowd, staring into the eager eyes of the spellbound reporters.
"What did he say?"  said a voice from the crowd.
Dana sighed.  "He didn't say anything.  He just howled."  Then he turned and walked out of the press conference.
At the time of this writing, Quinton "Rampage" Jackson is still at large.  If you come in contact with the suspect, please do not try and apprehend him  yourself.  He is armed with bungalows and very dangerous.
We'll have more on this story as it develops.  If you have any information that you'd like to share with authorities but are afraid to because you are concerned about the possible consequences of having to get "stitches" as a result of cooperating with the "po-po," send Rear Naked Joke an email at This e-mail address is being protected from spambots. You need JavaScript enabled to view it .  We'll get it to the 5-0 anonymously, and you'll still get the reward money.