Thursday, 16 June 2011 22:09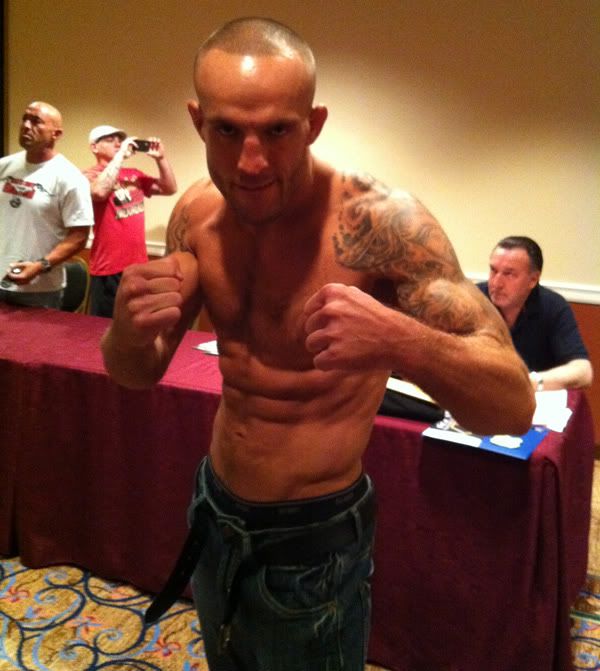 Pete "Drago" Sell looks like a man on a mission in these Ring of Combat weigh in pics.  He is making his MMA comeback after taking 2010 off, and looks lean and mean and ready to fight.  He'll get his chance tomorrow night when he takes on Elijah Harshbarger.
Sell got his start with Lou Neglia's Ring of Combat, and from there, like so many other fighters, he moved onto the UFC.  Now he's back and he's looking to reestablish himself as a top contender by winning the ROC welterweight title.  Standing in his way is the very tough Harshbarger, who dominated in his last outing, a three round decision over George Sullivan back in April.  This fight is going to be a doozy.  Tickets are still available at the box office, so hurry on down the Tropicana Casino Hotel in Atlantic City, New Jersey to check out the action live tomorrow night.
Here are the complete weigh in results and another pic, this one of Sell and Harshbarger squaring off.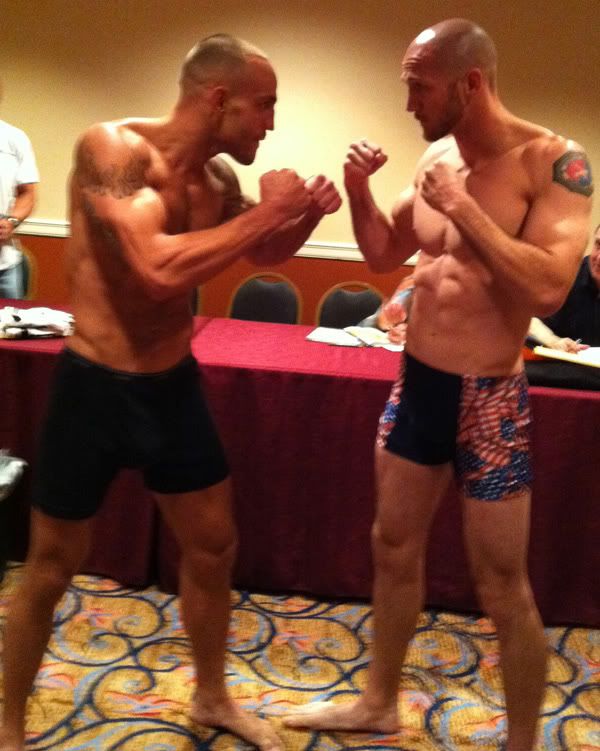 1
145
Alex Bruzzese vs. Thomas English
Both fighters weigh 144

2
145
Jimbo Hoffman vs. Mike Benoit
Hoffman 145.5. Benoit. 144.25

3
155
Andre Shuler )vs. Frankie Perez
Shuler 154. Perez. 155

Main Card (3 Four Minute Rounds)

4
155
Brian Smiley vs. Mike Prokop
Smiley 156. Prokop. 154

5
205
David Colabella vs.Keith Berish
Colabella 206. Berish. 202

6
240
J.A. Dudley  vs. Ed Gordon
Dudley. 239. Gordon. 225

7
146
James Jenkins  vs.Jason McLean
Jenkins. 147. McLean. 145

8
190
Brandon Saling vs.Casey Gonzalez Manrique
Sailing 188. Gonzalez. 189.25

10
170
Erik Oganov vs. Whitney Francois
Oganov. 171 Francois. 169.5

11
130
Marissa Caldwell  vs. Munah Holland
Caldwell. 129.5 Holland 130.75

12
205
Rob Wince vs. Ryan Contaldi
Wince. 205. Contaldi. 205.5

13
155
Gabriel Miglioli vs. Al Iaquinta
Miglioli. 154.5. Iaquinta. 155

Championships (3 Five Minute Rounds plus 1 Five Minute Round in the event of a tie)

14
135
Tito Jones  vs. Sean Santella
Jones. 135.5. Santella. 133.5

15
135
Aljamain Sterling vs. Claudio Ledesma
Sterling 134.5 Ledesma. 134.75

16
170
Peter Sell  vs.Elijah Harshbarger
Sell 170. Harshbarger 170.5