Thursday, 30 June 2011 09:20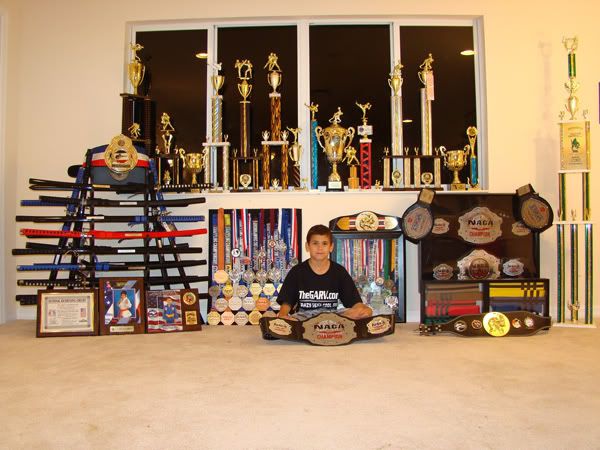 Raphael Marascio is a phenom in every sense of the word.  At just eight years old, he has amassed more accolades than most people do in a lifetime.  He has won titles in judo, wrestling, BJJ, kickboxing and Muay Thai, and plans on competing in the Olympics in his teens before taking the MMA world by storm.
Raffy, as he is known, is well known on the grappling and kickboxing circuits, and competes regularly at prestigious tournaments such as NAGA, GQ  and the Sunshine State Games.   His dad Matthew, a former boxer, has instilled the right stuff in Raffy, who loves nothing more than to compete with the best.  He often competes against older and bigger kids and fairs very well.   One of the things that makes Raffy so special is the fact that he trains in many different disciplines, but when he competes he goes against kids who are specialists in one discipline.  The fact that he regularly places in the top three shows just how well rounded and accomplished he is.
This year was a great one for Raffy.  He placed 1st in the NAGA U.S. Nationals Gi and No Gi expert divisons.  He placed 1st in the Florida IKF/PKB Muay Thai kickboxing tournament and is the reigning champion.  He placed 1st in grappling at the Europa Super Show.  And he is the reigning Florida State judo champion, having placed 1st in the Florida Sunshine State Games.   And there are many more tournaments he would like to enter.
Raffy came to my attention through MMA matchmaker and manager Gary Marino.  Gary and I are partners in Victory Sports Management, and we are representing Raffy pro bono, because we believe that he is unique and can achieve his dreams of MMA greatness.
TheGARV.com has sponsored Raffy for a tournament and MMAHQ.com has as well.  Raffy and his dad do not seek money for profit; they simply want to cover the costs of traveling to the events and the entrance fees.
If anyone is interested in helping Raffy achieve his goals of entering many different tournaments this year, please let me know.  You can reach me at This e-mail address is being protected from spambots. You need JavaScript enabled to view it .
In exchange for the fees and expenses, Raffy will wear the sponsor's gear and make a video thanking them, as he did with MMAHQ.com.
Here are some videos of Raffy in action.  Prepare to have your minds blown!  Check out his YouTube channel for the complete collection:  Rafael Marascio YouTube.