Sunday, 06 November 2011 10:37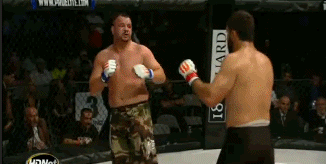 Yesterday, before ProElite's Big Guns show in Moline, Illinois, I predicted that Andre Arlovski would get a highlight reel knockout over Travis Fulton.  And that's exactly what happened.  What I didn't expect is that it would take Andre 14 minutes and 59 seconds to do it.  But with only one second left in the fight, Arlovski crushed Fulton with a head kick that took the starch out of the Ironman and left his unconscious on the mat.  Not that Arlovski needed the KO to win, mind you.  He was handling Fulton just fine, but the kick was a nice coup de grace that will definitely get him some attention.
In the main event, Tim Sylvia traded bombs early with Andreas Kraniotakes before taking control of the fight and winning a unanimous decision.  Like fellow former UFC HW champion Arlovski, this makes it two in a row in the victory column for Sylvia.  Andre and Tim have fought 3 times, all in the UFC.  Perhaps we'll see a fourth fight, this time at ProElite.  Time will tell.
In the much anticipated heavyweight tournament, Jake Huen made a statement with his devastating head kick to the dome of Ed Carpenter, followed up by some nasty ground and pound.  Definitely looking forward to the semis.
ProElite put on a well run, professional show last night, with some good matchmaking.  They are definitely an organization to watch.
Complete results of last night's card after the jump.
Tim Sylvia def. Andreas Kraniotakes by unanimous decision.
Andrei Arlovski def. Travis Fulton by KO (head kick)  Round 3, 4:59.
Evan Cutts def. Reagan Penn by unanimous decision.
Ryan Martinez def. Mark Ellis by unanimous decision (heavyweight tourney quarterfinal).
Jake Heun def. Ed Carpenter by TKO (punches)  Round 1, 3:17 (heavyweight tourney quarterfinal).
Cody Griffin def. Justyn Riley by TKO (punches)  Round 3, 0:32 (heavyweight tourney quarterfinal).
Richard Odoms def. Rodney Housley by unanimous decision (heavyweight tourney quarterfinal).
Waylon Lowe def. Floyd Hodge by TKO (doctor's stoppage)  Round 2, 5:00.
Todd Monaghan def. Richard McCraw by submission (rear-naked choke)  Round 1, 0:29