Wednesday, 17 November 2010 17:57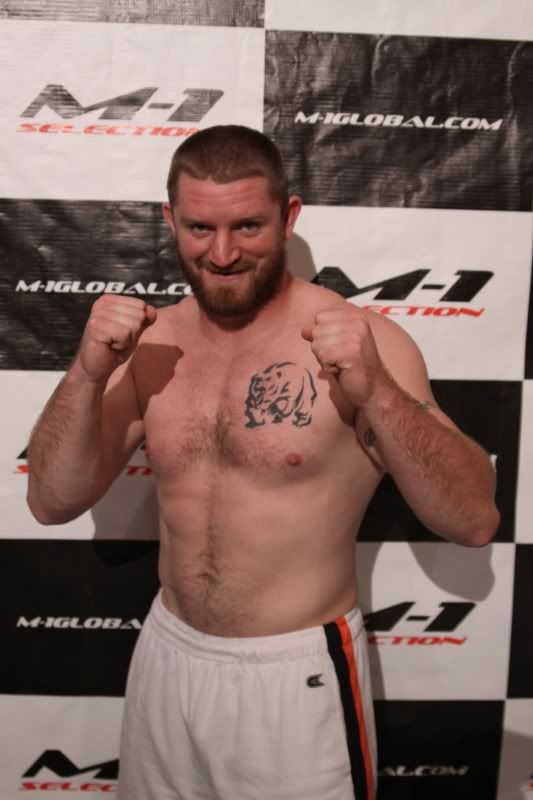 New Jersey native and Team Bombsquad fighter, Pat Bennett, brings an established 6-2 combined amateur and professional mixed martial arts record heavily weighted with five first-round TKO's. Although known for his proud wrestling pedigree, Bennett has thus proven he is a multidimensional mixed martial artist able to transition his skills to whatever is set in front of him. He'll need his full arsenal come December 10th when he faces Alexander Volkov at M-1 Challenge XXII.
As a key member of the Team Bombsquad contingent, Bennett's manager, Ryan Ciotoli, has nothing but praise for the heavyweight's performances to date. "Pat's a three time All-American wrestler, so he possesses a great base and he's an electrifying striker; hence the reason for his five first-round wins. I definitely consider Bennett to be a prospect in the heavyweight division and the M-1 Selection Americas tournament has been a phenomenal opportunity."
Bennett has recently set his wrestling on the back burner in favour of striking throughout the 2010 Selections tournament but the heavyweight contention bout with Alexander Volkov is sending him back to his fundamental and highly decorated base. "I'm a dominant wrestler and seemed to have gotten away from what I do best," says Bennett. "I've watched Volkov's videos. I know a lot about him and his striking abilities. Stylistically this is a great match-up and I know what I have to do to be successful." At 6' 3", 240 pounds, Bennett will be able him to defend takedowns at will and push the pace as he sees fit while being cautiously aware of Volkov's lengthy reach.
Bennett's path through the 2010 Selections tournament allowed him to display a wide array of talents. Opening up the brackets against Nick Smiley, the mild-mannered monster needed a total of 37 seconds to destroy Smiley by TKO and leave him in the ring busted and bloodied. His semi-final bout was a marathon war with American Top Team prospect Mehdi Hassan where he earned a unanimous decision victory. The run was halted in the finals however as Bennett fell victim to Kenny 'Deuce' Garner's lead left hook; unable to answer Garner's striking, Bennett notched the second loss of his career via TKO at the midway point of the opening frame.
Bennett's venture to Moscow's cold and snowy tundra is a self-proclaimed mission for redemption from his final's performance. If Bennett delivers on his promise to execute his game plan on December 10th, this bout has the potential to create explosive collisions in the ring and catapult Bennett up the heavyweight contention ladder, bringing him closer to a future title shot. "I haven't thought past Volkov. I'm focussed on him and this fight only. M-1 is doing things right and I'd love the opportunity at a title fight but right now I'm looking to win the fight in Moscow – then let's look towards 2011."
Bennett is clearly in full control of his own destiny.