Thursday, 08 March 2012 13:05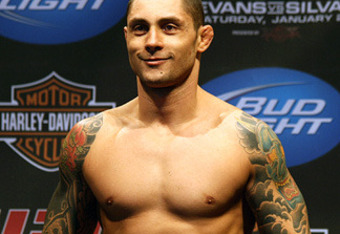 (Thiago Silva)
Swedish fight Alexander Gustafsson has been tearing up the UFC LHW division recently, and he is often mentioned as a contender for Jon Jones's title. Gustafsson is scheduled to fight next month, and originally his opponent was supposed to Antonio Rogerio Nogueira, aka Lil Nog.  However, Nogueira suffered a knee injury in training, and will be replaced by Thiago Silva.
This was first reported by the Swedish MMA site StudioMMA.com.
For Silva, this is a tough comeback fight.  If you recall, Silva was suspended after beating Brandon Vera in January, 2011, due to providing a false urine sample for the post-fight drug test.  His win was changed to a no-contest, and he sat out the rest of the year.  He was supposed to rematch Vera, but that fight was scratched when Vera got hurt, so now he'll replace Lil Nog against Gustafsson.
This is a great test for the Gustafsson, and if he looks impressive against Silva, he will definitely be in line for a title shot against Jones.  I think Gustafsson has all the tools to succeed in the UFC, and he is one of the very few fighters to tall enough to present some problems for Jones reach-wise.  The Swede is developing very well in the UFC, and it's going to be a great fight next month.
(Alexander Gustafsson)