Thursday, 12 August 2010 16:53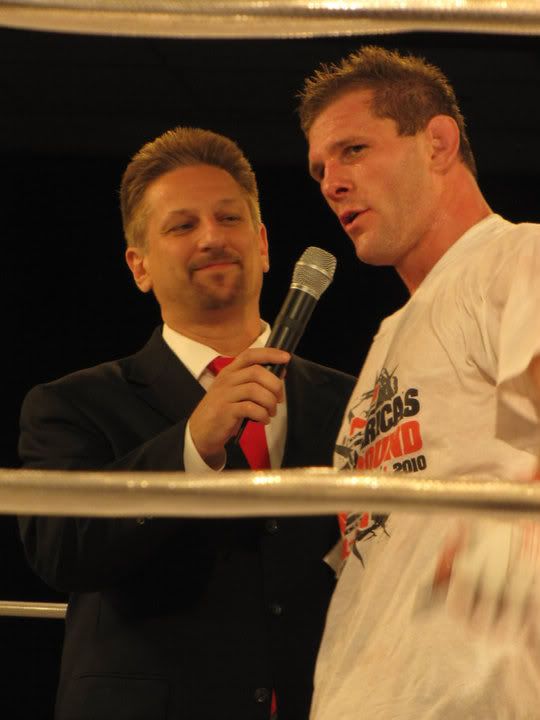 (TheGARV with finalist Mike Geurin...photo by Shawn Baran)
M-1 Global's Selection Americas semi-finals are in the books and the fights were amazing.  I had a great time ring announcing and already look forward to the finals on September 18th.  The 10 finalists have fought there way to the top and now will be fighting each other to see who reigns supreme.
Team Bombsquad, out of Cortland, NY, saw three of their four semi-finalists move on to the finals.  That's pretty amazing, and it shows how well head trainer Ryan Ciotoli trains his guys.  Ryan and Gary "G-Man" Marino do a great job running Team Bombsquad and their team is present in every organization.  Always a pleasure to see the Bombsquad represented at the shows.
One of the highlights of my evening was the return of Dr. Death Touch, aka Dr. Michael Kelly.  The good doctor had been noticeably absent from the past few events, so it was great seeing him.  We had a couple of funny moments together as well.  I was sitting beside him during the fights and at one point between rounds, a fighter took a drink of water and sprayed it out of the ring, right at us.  Dr. Kelly actually had to clean off his glasses afterwards.  Then later on, he returned to his seat only to find a fan sitting in it.  That's when the good doctor transformed from the mild mannered Dr. Kelly to the evil Dr. Death Touch.  He gave the fan a look and told him to scram.  The guy, evidently seeing his life flash before his eyes, did just that, bowing and scraping as he backpedalled away to his own seat.  It was a classic NJ MMA moment, and a great way to welcome Dr. Kelly back to ringside.
After the jump you can check out the finalists and read up on how to watch all the action come September 18th.  See you at Ballys!
New York City, New York (August 11, 2010) – Coming off Saturday's spectacular Semi Final event, M-1 Global's highly anticipated M-1 Selection 2010 – Americas Finals tournament bouts are announced; the live event takes place Saturday, September 18th, 2010 at Bally's Casino Hotel in Atlantic City, New Jersey.
"M-1 Global has provided the proving ground for these young fighters and they have seized this opportunity," says Evgeni Kogan, Director of Operations of the mixed martial arts powerhouse, M-1Global. "The semi-finals proved that the caliber of competition is remarkable. The Selections tournament has laid a successful foundation around the world and the American Finals will be a great event."
The Final round bouts feature rising American stars who are one victory away from being crowned the M-1 Selection champion in their respective weight classes.
Tournament Finalists and matchups include:
Jose Figueroa and George Sheppard                    Lightweight Division
Tom Gallicchio and Len Bentley                              Welterweight Division
Tyson Jeffries   and Mike Geurin                              Middleweight Division
Byron Byrd        and Daniel Vizcaya                         Light Heavyweight Division
Kenny Garner   and Pat Bennett                               Heavyweight Division
Additional bouts to be announced
The M-1 Selection 2010 - Americas Finals match-ups go down Saturday, September 18th and the 2010 M-1 Selection Americas Champions will be crowned.
The "M-1 Selection" is the world's premiere MMA competition where the next generation of superstars are given the opportunity to showcase their skills on the world stage with fighters being eliminated after only one loss; victory will advance the winning fighters throughout the tournament and earn them a trip to the championship event where they will compete for the coveted "M-1 Selection" title.
The "M-1 Selection" tournament is broken down into global regions: Western Europe, Eastern Europe, and the Americas with each region hosting three rounds and a final of the ""M-1 Selection" tournament. The winning fighter in each weight class will gain the opportunity to fight on the larger international stage.
The tournament features some of the best up-and-coming fighters from each region as they begin the journey towards a tournament victory. 
How to see the fights:
The Finals of the M-1 Selection tournament will take place live on September 18 at the coveted Bally's Casino Hotel in Atlantic City, New Jersey. Tickets are priced from $35.00-$125.00 and are available to purchase through www.TicketMaster.com.
Doors open at 7.00 pm, first fight at 7:30 PM/ET.
Free broadcast coverage of the entire 2010 M-1 Selection tournament will be available at a later date to viewers worldwide on  www.M-1global.com and selected affiliate partner sites.
Go to www.M-1Global.com for additional information.