Monday, 21 June 2010 12:16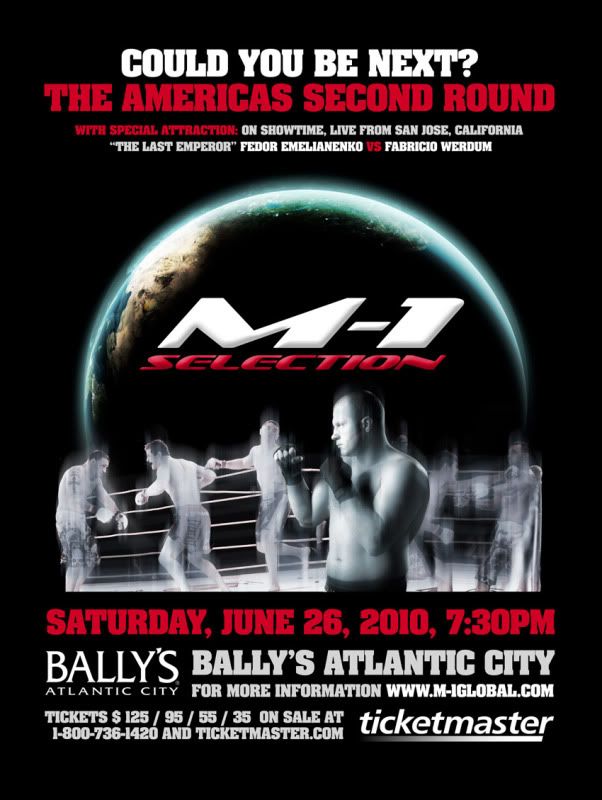 Do not miss your chance to see Round 2 of M-1 Global Americas Tournament this Saturday June 26th at Ballys.  I will be in the ring doing the announcements (which is worth the price of tickets alone) and Mike Straka of HDNet will be doing the blow by blow.
Here's the official press release for the event, which will feature the Fedor vs. Werdum fight live at the venue.
New York City, New York (June 3, 2010) - Fans attending the "M-1 Global Selection" 2nd round event on June 26th in Atlantic City won't miss the highly anticipated Fedor vs. Werdum bout. Based on fan feedback, M-1 Global will be airing "The Last Emperor's" contest through close circuit telecast during the live event.

"We are about delivering the fan experience and we felt it was imperative to enable our audience the opportunity to witness Fedor take on Werdum as it unfolds," says M-1 Global co-founder Vadim Finkelchtein. "Fedor is the world's greatest pound-for-pound fighter and MMA fans made it clear that they wanted to see this bout; we had to make it happen."
The second round of "The M-1 Selection, Americas," featuring American rising-stars expecting to throw heavy leather, will be held Saturday June 26 at Bally's  Atlantic City, New Jersey.

This "M1 Selection Americas" match-ups will be announced shortly with bouts showcasing elimination fights in the lightweight, welterweight, and middleweight categories with the winners advancing to the Americas third single-knockout round.

The "M-1 Selection" is the world's premiere MMA competition where the next generation of superstars are given the opportunity to showcase their skills on the world stage with fighters being eliminated after only one loss; two victories earns them a trip to the championship event where they will compete for the coveted "M-1 Selection" title.

The "M-1 Selection" tournament is broken down into four global regions: Western Europe, Eastern Europe, Asia and the Americas with each region hosting three rounds and a final of the ""M-1 Selection" tournament. The winning fighter in each weight class will join their team to represent his region in the 2010 M-1 Challenge.

The tournament features some of the best up-and-coming fighters from each region as they begin the journey towards a tournament victory. An Americas light heavyweight and heavyweight round is also scheduled for 2010.

How to see the fights:
M-1 Global Selection tournament events will take place live on June 26, August 7 and September 18 at the coveted Bally's  Atlantic City, New Jersey. Tickets are priced at $55.00-$125.00 and are available to purchase through Ticketmaster at 1-800-736-1420 and www.TicketMaster.com.

Doors open at 7:00 pm, first fight at 7:30 PM/ET.
Go to www.M-1Global.com for additional information.