Monday, 11 July 2011 21:45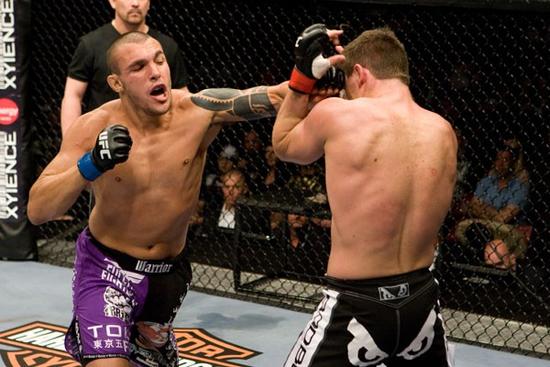 Luiz Cane is training hard for his UFC 134 match against Stanislav Nedkov in Brazil next month.  The Sao Paulo native is one of many Brazilians featured on the stacked UFC Rio card, and he's excited to be fighting back home.   "It's feels great to fight in my home country, it's an honor for me," he said.
Cane is coming off a much needed win at UFC 128 last March and hopes to keep things going with a win over Nedkov, who is making his UFC debut.  Luiz knows that there are no easy fights in the UFC.
"My opponent is a strong guy,"  he said.  "He has a good wrestling base as well as being a BJJ Blackbelt.  I think that our styles match up really well and I am as always looking to give the fans what they want to see. A great fight."
Great fights have been a hallmark of Cane's career:  Only one of his 11 wins has gone the distance,with 8 wins coming in the first round.  Luiz likes to stand and bang and he's stopped 9 of his opponents by knockout.  This KO ratio is reminiscent of another great Brazilian fighter, the legendary Wanderlei Silva.
There has been talk over the years of a beef between Cane and Silva--to the point where even his Wiki page says that he is "known to dislike Wanderlei Silva due to issues back in Brazil." Cane say in no uncertain terms, however, that those rumors are not true.
"This is pure BS,"  he said.  "The truth is, in 2008, a stupid guy posted an fake interview in some MMA forum.  He said he interviewed me at UFC Fight Night 15 in Omaha, Nebraska. But on that day I was at my home in Sao Paulo, Brazil.  I never had anything against Wanderlei. He is one of my heros in this sport and I'm a huge fan of Wanderlei Silva.  I used to stay awake all night to see his fights in Japan, and at the begining of my career he inspired me a lot with his agressive style.   I used to see his fights and think,  Man, I want to fight like this guy."
So far Cane has been doing a bang up job of fighting like his hero, and he's looking to showcase those aggressive skills against Nedkov on August 27.  Will there be more pressure on him to win because he's fighting in Brazil?
"I don't think it puts more pressure on me to win," he said.  "I always want to win no matter where I fight."
Cane is training down at the Armory in Jupiter, Florida to prepare for his fight in Brazil.  The Armory is also home to the fast rising star Edson Mendes Jr, aka Edson Barboza.   Both he and Edson are managed by Joe Mullings, who has been doing a great job guiding their careers.
Check out this video of Luiz Cane putting a hurting on James Stelly with his knees from the Muay Thai clinch.  We'll have more on Cane in the near future, including some exclusive training pics.