Friday, 22 July 2011 09:33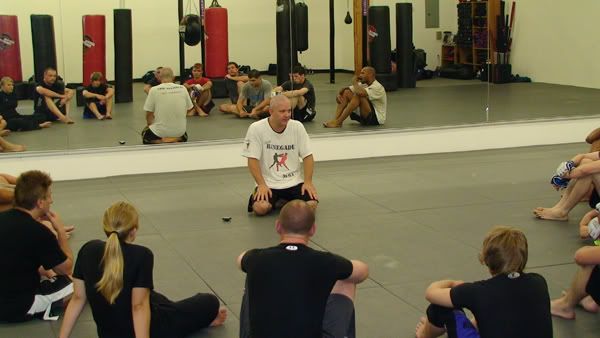 Anthony Sansonetti is the owner of Tiger Martial Arts in Levittown, Long Island, and head trainer of its competition team, Team Renegade.  To say that Sansonetti is passionate about martial arts is an understatement.  He began studying Kempo Karate at the young age of seven.  Over the years he's studied "everything under the sun" including but not limited, to Aikido, Tae Kwon Do, Judo, shoot wrestling, Thai Boxing, Okinawa weaponry, Jiu Jitsu, Kung Fu, and of course Sambo, the style that he is most known for.
Sansonetti exudes a contagious energy and it is impossible not to get excited when he speaks about his journey through martial arts.  It makes you appreciate all of the opportunities that are available today to those who want to study and train.  Sansonetti explained that back in the early 1990's if you wanted to train "you turned to martial arts magazines; that's where you got your information because there was no internet."
He studied Aikido for a year and in 1992 found a local school and began training in Thai Boxing. Shortly after that, the first UFC came out.  His father, an excellent wrestler, had been extolling the benefits of wrestling for years.  But Sansonetti had never seen that level of grappling before.  "There you had this little Brazilian guy covering the range like a wrestler, and taking the guy down and applying an arm bar like a Judo guy."  He was determined to learn it.  But "back in 1994 there were no BBJ schools, there were maybe two Thai Boxing schools, a lot of Kempo and a lot of Tae Kwon Do."  He found the closest thing in Judo and Japanese Jiu Jitsu. He would eventually train in shoot wrestling and Brazilian Jiu Jitsu, as well.
However, the idea of mixed martial arts was new at the time and he says, "you didn't have an MMA school, it didn't exist, where everything was under one roof.  If you did Thai boxing you would find a guy to box with, and you would try to find a wrestler to learn from, and BJJ or Judo."  Sansonetti began teaching and at only 23 years old, he opened Tiger Martial Arts.  "I just taught what I knew and it didn't start out as an MMA academy that it is today."
For the next five years Sansonetti focused on his business and continued to train, always pushing himself and seeking out new challenges. He had already won two Thai Boxing bouts years before and at 28, he realized he "was getting up there and wanted to give MMA a try." This idea was not met with enthusiasm by his supporters.  His BJJ instructor told him to wait until he got a purple belt, while another instructor said he was too old. He was determined to fight and sought out other avenues, and through the website, The Underground, he contacted Matt Lindland of Team Quest.  Team Quest was known for training great fighters like Randy Couture and Dan Henderson.  Just three weeks prior to Randy Couture's big fight with Tito Ortiz, Sansonetti spent a week in Oregon training with Lindland, Robert Follis, Couture and their team. T his was a "true MMA school" and he says, "there were over one hundred guys training, grappling, kickboxing."  Sansonetti knew that this was the future.
At Team Quest Sansonetti learned more than just grappling, submissions, and take down defense.  He "learned how to formulate the training, how to coach, and a belief system in training."  He realized the importance of cross training and upon returning home, heeding the advice of Follis, he surrounded himself with as many different training partners as he could find. Sansonetti did get his MMA fights, and was 1-1, but more importantly he discovered "who I wanted to work with and who I didn't want to."  In 2004, again through The Underground, he found Steve Koepfer, AKA Sambo Steve.  The next and most successful chapter in Sansonetti's martial arts career, Sambo, began.
Sambo, made most famous by Fedor Emelianenko, comes from Judo and is derived from the former Soviet Republic.  Its style is similar to BJJ, but Sansonetti believes, "BJJ may own the guard, but Sambo owns the leg locks."  He commuted to Sambo Steve's school in NYC, NY Combat Sambo, to train and would eventually begin to teach what he was learning to Tiger Martial Art's competition team, Team Renegade.
Team Renegade is for those who are interested in competing, whether it be in grappling tournaments or MMA fights.  Of course for those who are interested in training for health and fitness, Tiger Martial Arts offers no gi submission grappling, kickboxing, MMA, Sambo, a women's kickboxing class, as well as a children's class.  However, Sansonetti explains, "if they come to competition team training they are required to compete, or train with the understanding that they will do it when they are ready and not necessarily MMA."  On July 30,th eight members of Team Renegade will be competing in the New York Summer Jiu Jitsu Classic in St. James.
For two of Team Renegade's biggest prospects, 19 year old Taylor Costantino and 22 year old Ben Syers, the real training was just beginning after two hours of competition team training.  After scheduled classes, the two stay with Sansonetti, often until 2:00AM, working on grappling, takedowns and sparring.  Sansonetti has recently changed their game plan, having them always prepared to take a fight. He explains, "Usually you get a fighter to peak, but you can't really do that if you're going to be available on short notice. They train four days a week, at least four hours, and then all I have to do is slow them down the week of the fight."
Taylor Costantino, is small yet stocky, and a has smile that lights up the room. Sansonetti says, 'he looked so nice, so we gave him a red mohawk."  The mohawk does not deter from the fact that he is that nice.  He is polite, well spoken, and extremely mature for nineteen years old. Costantino works at a nursery in Norwich during the day, trains at night and is planning on studying nutrition at Nassau Community College.  He is currently 0-0 and will be fighting Dominick Territo, who is also 0-0, this Saturday, July 23rd, at Cage Time IV in Pennsylvania. However, having his last three fights cancelled due to unforeseen circumstances, Costantino is going into to his debut hungrier than ever.  Last fight he "showed up, warmed up, wrapped up" and the fights were cancelled midway through.  He has been in fight camp since mid December and Costantino can fight anywhere from 145- 155 lbs.  He believes his clinch is the strongest aspect of his game, but he is confident that he "is proficient enough in everything that if the guy is a good BJJ guy I can try and knock him out or use my submission defense to stay on top."
Ben Syers is the Evolution Fighting Championship's current Light Weight champion but will also fight at the Cage Time event this weekend.  He will be facing 3-2, Donald Koch.  Syers is tall and thin, stands 6'1", and walks around at 146 lbs.  He is very quiet and introspective, and, his silence can be intimidating.  "This one doesn't talk, Sansonetti warned, and Syers agreed, "this talking thing is not my strong suit."  He doesn't need words when he wins fights by knocking out guys in four seconds, like he did to Bobby Ascolillo last year.  Syers wrestled in high school and for one year in college and became interested in training after watching the UFC.  He came to Tiger Martial Arts with no stand up experience, and he says, " I couldn't punch for my life, I had never thrown a punch before in my life.  I never got into a fight before."  He was a actually a hall monitor when he was younger.  Stand up was "confusing and awful" but he says he "trained for hours and hours, everyday, and it all started coming together."  Now, when asked what the strongest part of his game is, Syers proudly declares, "standup and foot work."
Syers knows that he can beat anyone if he trains hard enough.  "If I train harder than him I know I'm going to beat him."  However, more importantly than the physical training Syers believes it is the mental toughness that you need as a fighter.  He says, "I could easily hit a bag for three hours nice and light and say I did three hours of training."  Syers obviously has more than enough determination and the heart but thanks Sansonetti for helping him with the mental training before fights.  Sansonetti " made sure I was mentally prepared more than anything to go in there and fight."  He will defend his Evolution Light Weight title on August 27,th against Caleb Solano, a teammate of Ascolillo, the victim of his brutal KO.  But Syers is not looking past his fight this coming Saturday, "it feels like it is my last fight, but my long term goal is to turn pro."  Syers boldly states, "I want to go in the best fighter they have ever seen."  With training partners like Taylor Costantino, the rest of Team Renegade, and especially with Sansonetti as his coach, his goal is more and more attainable every day.
Both Costantino and Syers love the fact that they can train in Sambo with Sansonetti,  In fact, Costantino was training BJJ prior to coming to Tiger Martial Arts and that is one of the reasons he started training at the school.  He "loved Fedor" and wondered, "What is this martial art?" Tiger Martial Arts was the only local school that he could find that offered Sambo.  After training, Costantino fell in love with it, stating, "Out of everything, that is what I love the most." This past May he won the US Open Sambo Championships in Rahway, New Jersey.  In addition, Syers feels that, "Sambo transfers awesome into MMA and into fights."  Although they are now one the most reputable Sambo schools in NY, it happened rather quickly and Sansonetti describes his team as the "Little Engine that Could."
In 2006, a US Sambo tournament was formed, and although Sansonetti had only recently started teaching what he had been learning to Team Renegade, they did not even own any kurktas, the traditional Sambo jacket.  So, Sansonetti, "got some jackets, and put a team together of the best guys."  As fate would have it, he would face his teacher, Sambo Steve's school in the first round.  It was close, but Team Renegade came out victorious, winning four out of the seven matches.  Going into the championship, facing Team Empire, a Pat Miletich affiliate school, they were the obvious underdog.  But this victory was far from close.  "We beat them 4-1," Sansonetti says.  Next up would be the North American Free Style Sambo Competition, and filled with pride he exclaims, "all my guys won gold in their divisions. "When I got the trophy, I cried, because it was such an achievement, within a year to go from a non Sambo school."  He thought, "Look what I can do with my guys."
And they are "his guys."  Anthony Sansonetti is the trainer, coach, and nutritionist for his team. He has taken his thirty years of extensive martial arts training, and he has wholehearted put this experience and knowledge  into his school and his teachings. But Team Renegade seems more like a family, with Sansonetti playing the role of brother, father, friend, and sometimes, even hair style advisor.