Tuesday, 14 June 2011 11:26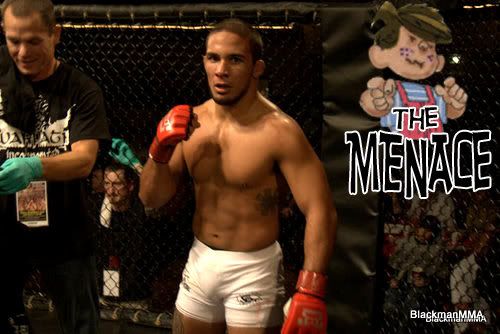 Have you ever met someone who right away you know will not let anything get in their way?  That's the feeling you get when you first meet Dennis "The Menace" Bermudez.  As I sat down with him and heard his story, I quickly learned that this man is more than just a cage fighter.  He is a fighter, period. Life has thrown him some curve balls, but he still has not let anything stop him from getting to where he is now.   Dennis has just moved to Long Island from Pennsylvania, where he is currently in the process of reinventing himself as a fighter.  Under the tutelage of Gregg Depasquale and the coaches at Long Island MMA, he plans to become a champion.
Of course like any story things didn't start out this way.  Dennis was a High School wrestler who was told that he couldn't make it in the college ranks, let alone a Division I school.  To prove the naysayers wrong Dennis walked on to Bloomsburg College, a Division I wrestling school.
"I like being the underdog,"  said Bermudez.  " I like not being expected to win."    His admission to Bloomsburg started a trend of proving his critics wrong.  He not only earned a spot on the wrestling team, he also earned a scholarship. While at Bloomsburg he managed to juggle wrestling, two jobs, and making the Dean's list.  However, all that came to a screeching halt when he returned from a wrestling tournament in Canada.  His girlfriend at the time told him she was pregnant and he was going to be a father.  At that point he knew being a father was going to be a priority.  He continued to try and juggle school, work and wrestling while being a dad, but eventually Dennis had to step away from wrestling to be able to deal with the pressures of work and family.  For two years he kept up the juggling act until at the urging of his dad and coach, Dennis took a paternity test.  It turned out that the boy Dennis had been raising as his son was not his.  As difficult as it was to learn that the boy was not his, Dennis had found a new opportunity in MMA.
As Dennis reevaluated his life, friends who liked is aggressive style of wrestling, suggested he try MMA. Bermudez burst onto the MMA scene as a pro in 2006 with a TKO win in his first fight.  He went on to win 7 straight fights, winning  in all fashions. Dennis is not just a wrestler who will lay and pray. He likes to finish fights. He is a true double threat. He has the power to knock you out and the wrestling to take you down and grind it out.  However, in his last two fights, he's suffered back to back losses, causing him to re-evaluate his style and weight class.  His goals at the Long Island MMA and fitness center is to streamline his training and prepare for a move down to the 145lbs weight class.
"They have me on a good program here," Dennis says.  His new coach Gregg Depasquale sees a ton of potential in him and believes he can reach his goals of someday fighting in the UFC.  After meeting Dennis and learning how well he deals with adversity, I too have become a believer.