Friday, 16 March 2012 12:51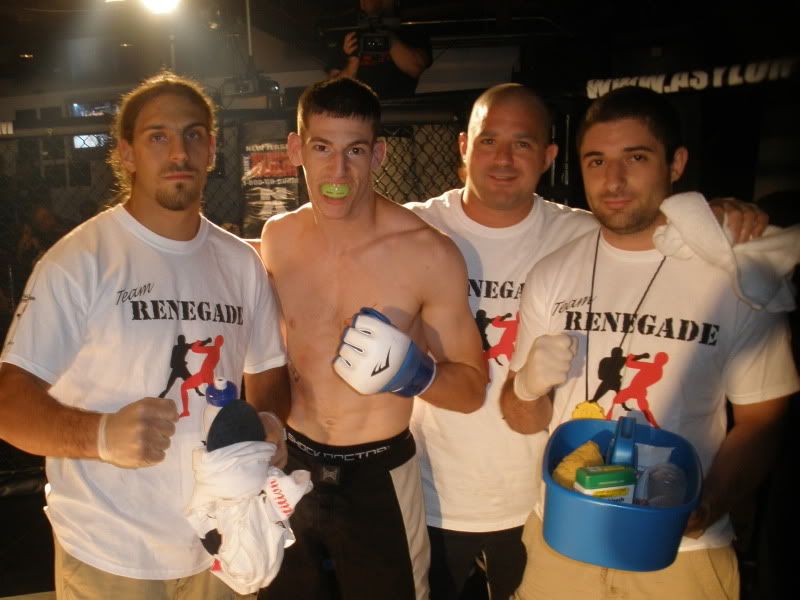 Ben Syers gained a measure of Internet fame as a fighter when he knocked out Bobby Ascolillo in just 4 seconds to win the Evolution Fighting Championship's 140 pound title.  It was a spectacular KO, and the video went viral, resulting in tens of thousands of hits in just a few days.  Tomorrow night, March 17th, Ben will be fighting Luis Finateri on Lou Neglia's Ring of Combat AMXII show at the Rahway Rec Center in Rahway New Jersey.
After winning the Evolution title, Ben suffered a shoulder injury in training, and when he returned to action he lost a decision, and his belt, to Caleb Solano at another Evolution show.  But now he's in perfect health and is ready to make a statement at Lou Neglia's event.
"I'm ready," said the 23 year fighter old fight East Meadow, Long Island.  "I feel good.  I'm excited.  I feel 100 percent healthy...stronger, faster, sharper.  I'm ready to perform."
Syers is a fierce competitor and the loss to Solano has inspired him to train even harder.  He fights out of the Team Renegade camp in East Meadow, and is trained by international Sambo champion and former MMA fighter Anthony Sansonetti. Ben sees this fight as a crucial step in his MMA career.
"I see this as the most important fight or competition of my life right now," he said.  "Which just makes it that much more exciting for me.  It's a whole new fight, a whole new story for me.  I'm ready to win this and move on to the next chapter of my fighting career."
Ben has been working on adding more weapons to his already impressive arsenal, and will be looking to display them tomorrow night.  I asked Anthony Sansonetti about what he's been working on with Syers.
"He's working on his core skills, his jab, his hook right, his uppercut," Anthony explained.  "He's keeping focused on the distance between him and his opponent, always knowing where to be.  But also he's been adding in some more kicks and some more tricks...jump knee to the body, spinning back fist.  So he's got some more tricks."
These little extras will serve Ben well in future fights.  But of course he and Anthony continue to work hard on the basics.  Indeed, it was a classic left hook that KO'd Ascolillo in the fight that went viral on the Net.  I asked Ben about that video, and about how all the attention affected him.
"It didn't really affect me," he said.  "I can't remember the last time I watched it.  I'm always looking to get better and move forward and win."
Thanks to the video, Syers is now known for his punching prowess, but he really got his start as a wrestler.  His wrestling is what eventually led to him become an MMA fighter.
"I wrestled all throughout high school and a year of college," he said.  "I love competition and wanted to try something new.  Started watching the UFC and here I am."
In fact, when Ben first started training with Sansonetti, the plan was to rely on his wrestling skills in the cage.  But Anthony soon realized that Syers was a very talented striker.
"He told me he wrestled," Anthony said.  "It was his strongpoint, so I thought when he fought MMA a good strategy would be to take people down and ground and pound them.  He  has good conditioning, good takedowns, and I figured that would be the way to go.  But I was afraid that in his first fight he'd panic as soon as his opponent started throwing, and then telegraph his shot and either get caught in a submission or just be sloppy.  So I tried to make him get comfortable with his standup, with his boxing, and his hands.  We were really focusing on it.  Then one day I remember I was watching him spar, watching him move, and thought, wow, he's gotten really good at boxing.  So we changed his strategy.  It has really developed as a skill set for him."
Now Ben goes into each fight with the confidence that he can end a fight with just one punch.  But he doesn't go in there looking specifically for the knockout.  He mixes his stand up techniques and wrestling very well.   Plus, he's developed some excellent Sambo skills, which serves him well in the cage.
"Sambo helps a lot," he said.  "In terms of the aggressiveness, throws and takedowns."
Sambo is a great art for mixed martial artists.  The legendary Fedor Emelianenko can attest to that fact.
"He's got a good uchi-mata, or pod vat, in Sambo terms," Anthony said.  "It's not something that he used in wrestling, especially up high in the clinch.  Now it's a good counter for him."
With these well rounded skills, Ben Syers is looking to the future and will be going pro soon.  He has a dream.
"I will make it to the UFC one day," he says with absolute conviction and confidence.
Given his work ethic and ability to learn, it's hard to doubt his words.  Ben Syers is a name you will be hearing a lot in the future.  Expect to see more viral videos of him as his career develops.