Friday, 17 June 2011 07:31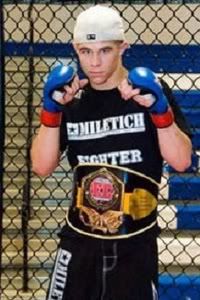 Al Iaquinta is an undefeated (3-0-1) professional lightweight MMA fighter.  He will be returning to the cage tonight in Atlantic City fighting at Lou Neglia's Ring of Combat promotion.  Iaquinta started as a wrestling- based fighter who has really focused on his striking over the years with Ray Longo. His stand up has reached a level where he's very comfortable with it and prefers mixing it up with his hands now. Al has a KO and a TKO stoppage on his professional resume and is looking to add another knockout to his stats tonight as he faces Gabriel Miglioli.

Miglioli recently lost a Ring of Combat title fight in February by disqualification.  He will be looking to make a name for himself by knocking off top undefeated prospect, Iaquinta.

Al trains out of Serra/Longo on Long Island and is from Wantagh, NY.  The Serra/Longo fight team has a busy night tomorrow but none as important as Iaquinta's fight.  Al is on the verge of getting the call from the big dogs.  A win tomorrow night could land him a shot in the UFC.  Ring of combat has had over 50 fighters make it to the next level.  Iaquinta is the next one to go possibly with a great performance tonight.  I'm guessing he will follow a similar path to that of fellow teammate and winner of his second straight UFC fight this past weekend at UFC 131, Chris Weidman. Chris got his shot by taking UFC fights on short notice because of fighters getting hurt.  I feel that's where Iaquinta will get his chance to mess with the best in the world.

All this talk doesn't happen without a win tonight, some big pressure on the talented lightweight. Pressure is no problem for the Wantagh native.  With a never say die attitude, a heart of a lion and a work ethic second to none, Al has to be the overwhelming favorite for tonight's bout.  I foresee great things in this young man's future and TheGARV.com will be there every step of the way.

Al is very active in local MMA fitness and training community. He has an awesome site at www.IaquintaMMA.com where you can see blogs and vids of past fights, or schedule a personal training session with the future MMA star.  Good luck to Al and all the other Long Island fighters tonight !
Check out this Iaquinta 15 second KO over Tim Sylvester from ROC XXV.