Friday, 22 October 2010 08:10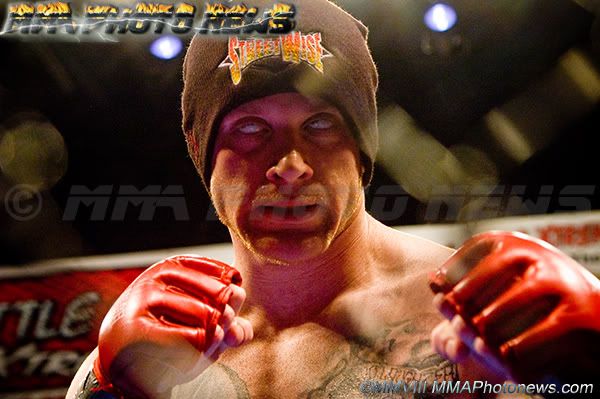 Brian DeMuro is a popular fighter in New Jersey and he's fresh off a medical suspension.  He'll be back in the cage on Decemeber 3rd at the Locked in the Cage show in Philly against tough John Doyle.  I caught up with Brian yesterday and spoke to him about his future.
Garv: You were given a hefty medical suspension after M1 Global back in April. How has that affected you?
BD: It was rough. I couldnt fight ANYWHERE til I got everything cleared up. I just recently completed all the medical testing and had my suspension lifted byt the NJSACB. It took awhile, and what seemed like forever, without medical insurance.
Garv: Did you keep up with your training?
BD: Of course! (laughs)  I started training even harder than usual. I started lifting weights again to improve my strength and overall power and also incorporated yoga to maintain my flexibility. I put a good bit of muscle back on so Im making the jump from 170 back to 185 where I fought my first 2 pro fights.
Garv: You have been known to bounce around from camp to camp since your departure from Team Balance. Where are you training nowadays?
BD: Yea, I did do a lot of bouncing around. After leaving Balance, I went to KPOZ and was training Muay Thai with Kru Kansak, who is like the Michael Jordan of Muay Thai in Thailand and BJJ with blackbelt Daniel Tavares. During my stay at KPOZ I was cross training with Rob Guarino and the Rhino Fight Team. I left Kpoz and went to The Dojo MMA and trained with Fernando Bernardino while still training with Rhino. In my travels of camps I have made my way to Daddis Fight Camp where I have a stable of pro fighters and BJJ competitors to roll and spar with. I consider Rob Guarino to be a friend and I still pop in there once in awhile but my home and full time training facility is now at Daddis.
Garv: When will we see you back in action and what can we look forward to seeing?
BD: I will be fightin on the Locked in the Cage card December 3rd in Philly.You can expect to see a stronger me, a more technical striker, and a very hungry and focused me. Its been awhile since I last fought. Between opponents not passing their meds, shows getting cancelled, and that suspension it seems like its been forever. I cant wait to get back in the cage!
Garv: Do you have an opponent set?
BD: Yes. The bout agreements are signed and returned already. Im fighting John Doyle.
Garv:  Doyle's a tough guy who has fought for M-1 and Bellator.  What are you expecting from him?
BD: Hes got a lot of experience and from waht I can see from some of his videos, good takedowns. However, I'm most comfortable fighting off my back so when guys take me down, I look up at them and say "Thanks".  It really pisses them off  (laughs).  Ive worked a lot on my weak points which were my striking and my wrestling. Between Kru Kansak, Rob Guarino, and now Brad "Overlord" Daddis my striking has made leaps and bounds so expect to see a major change in that from me. My Wrestling coach is Nick Cottone who is the Head Wrestling Coach of Timber Creek High School. A long time friend of mine, we've known each other since we were 8yrs old, and Ive worked diligently with him on all aspects of wrestling.
Garv: you seem more focused than Ive ever seen you and Ive known you for quit some time.
BD:  That I am! I have a lot to prove to a lot of people and I plan on doing so December 3rd!