Sunday, 21 August 2011 22:54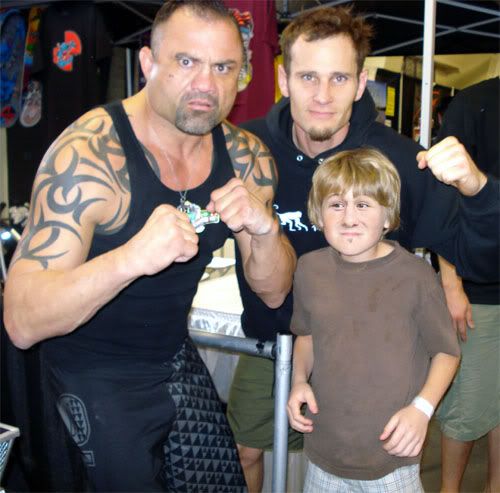 A RearNakedJoke.com Exclusive
Former UFC fighter Kimo Leopoldo was living a quiet life in retirement when he awoke one morning, turned on his computer, and discovered that he'd been reported dead by various news organizations, including TMZ.  At first Kimo, who was still a bit groggy from a rough night of partying, believed the reports he read on the Net.  He looked around his dilapidated apartment and assumed that he'd been sent to Hell to suffer for all of eternity.  However, after several cups of coffee and a shot of Winstrol, Kimo realized that he'd been the victim of a hoax.
The hoaxer, one Beau Taylor, also known as One Man Army, or OMA for short (and we do mean short), had posted a message on the Underground Forum, a subsidiary of Matbattle.com, stating that Kimo had died the night before of a heart attack in Costa Rica.  News of Kimo's death spread quickly throughout the mixed martial arts community, and eventually got picked up by legitimate news sources, such as TMZ.  TMZ actually "confirmed" the rumor in their reports, which cemented OMA's legend on the forum, and made Kimo's head hurt—even more than his hangover.
In response to the hoax, Kimo held a press conference at the Orange County Sheriff's Department, where he debunked the rumors of his demise.  He also stated that he intended to sue TMZ and wanted to "meet" OMA, presumably to kick his ass for what had happened.
Taylor, of Tulsa Oklahoma, did not RSVP Kimo's invitation to a meeting.  Instead he reveled in his newfound fame, and used the notoriety of his "elaborate troll" to help him "hole bar sluts" in Tulsa.   In addition, Taylor's Internet fame helped him land a starring role in the Lollipop Guild Revival, based out of Topeka, Kansas.   Life was good for the Midwest Champion of the World as he traveled the country with the Lollipop Guild.  However, things came to a screeching halt when a tornado shut down the Revival, leaving OMA unemployed and seeking solace in a bottle of booze.   A low point was reached when he was arrested back in Tulsa on a drunk driving charge, even though he wasn't driving—he was merely passed out behind the wheel.
That was pretty much where the story ended, until a chance encounter took place between Kimo and OMA this week at a mixed martial arts event in Arizona.  The two men at first exchanged angry words, but eventually they shared stories about their rise and fall in the MMA world and realized that they shared common ground.  Now the two former enemies are good friends, as this exclusive photo taken at the event shows.
We here at RearNakedJoke.com commend Kimo for turning the other cheek and forgiving OMA, and wish the best for both men.
(Photoshop by Inf0)