Monday, 07 March 2011 09:35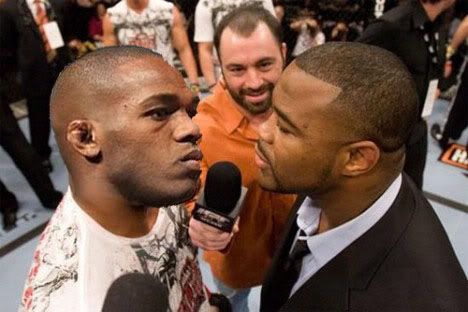 Jon Jones and Rashad Evans both train out of Greg Jackson's camp and have both stated that, as teammates, they'd never fight each other.  That was not music to the ears of UFC boss Dana White, who criticized Evans for saying that he'd move to HW or MW if Jones won the title.  Dana responded that Evans "has too many friends" and his message was heard loud and clear by both Evans and Jones.
Backing off his previous position, Jones said:
I respect Dana White a lot and if that's what he absolutely wanted to happen then, you know, I guess that's what would have to happen. Me or Rashad would not want to get fired over the situation. It would just be majorly awkward for us. Rashad and I have a lot in common; we're both young, African-American men with families, we both like to sing and have fun, we're both elite MMA fighters, I mean we have a LOT in common. We really clicked really well and there is just so many other great fighters in the world that we could compete against. And we're not animals, we're friends and we're people, we're human beings. I just would hate to have to fight my own teammate. I would never want to.
Then Evans did a bit of an about face too, saying:
I made my home at light heavyweight, and I think that I'd be playing myself if I went down to 185 or up to heavyweight. Those fights would be fun to do if there was a match worthy of doing it, but I think, for the most part, light heavyweight is my home ... I don't know what to expect from the UFC anymore, I'm not on Dana's fab five so it can go either way. If it does happen and I get a title shot, then I have to think about whether I take it depending on who it is ... Jones expressed last night in an interview that he would fight me for the title; I'm no punk, so...
Before this fight has a chance of happening, Jones must win the title on March 19th against Shogun Rua, no small feat in itself.  If he does, then we just might see a Jackson vs. Jackson showdown and it will be very interesting to see how Greg Jackson deals with the situation.