Thursday, 21 July 2011 10:35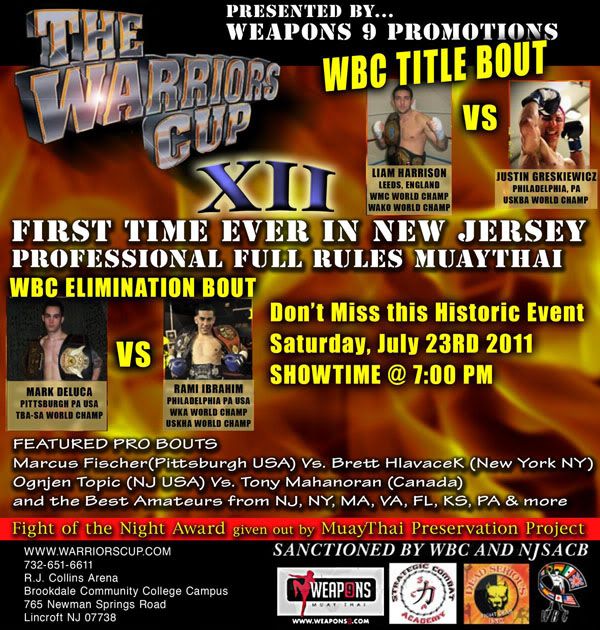 SATURDAY JULY 23
THE WARRIORS CUP XII
ROBERT J COLLINS ARENA
BROOKDALE COMMUNITY COLLEGE CAMPUS
765  NEWMAN SPRINGS ROAD
LINCROFT NJ 07738
WWW.WARRIORSCUP.COM
609-678-6728
On July 23, Weapons 9 Promotions will be hosting an epic MUAYTHAI KICKBOXING EVENT.  WARRIORS CUP XII  will be a WBC sanctioned, professional Full Muay Thai Rules Event.  This is truly a breakthrough in the sport of Muaythai for the East Coast. Thanks to the efforts of Deputy Attorney General for NJSACB Nick Lembo, Full Rules Professional Muaythai will be showcased for the first time on the East Coast.  We would also like to thank Dr. John Baker of WBC Muaythai USA for his guidance and support. Thanks to Dr Baker we also have support from Secretary General of the WBC Patrick Cusick who has given us important press exposure in Thailand.
Headlining this event will be one of the best Muay Thai fighters in the world up against one of the best in the US. The 2nd half of the main event pits one of the most underrated fighters in the US against a young gun who has fought all over the world at world class level. Rounding out the pro card are 4 very talented pro fighters hailing from the East coast and Canada .   The supporting fight card will be many up and coming amateur fighters from gyms all over the Northeast.

The Double Header Pro main event will be:
WBC International Welterweight Title at 147lbs (5x3 minute rds)
Liam Harrison of Leeds, UK  vs  Justin Greskiewicz of Philadelphia PA

WBC Elimination Lightweight Bout at 135lbs (5x3 Minute rds)
Rami Ibrahim of Philadelphia PA  vs  Mark Deluca of Pittsburgh PA

Featured WBC Pro Bout:
Super Middleweight Bout at 165lbs (5x3 minute rds)
Marcus Fisher of Pittsburgh PA   vs    Brett Hlavacek of  NY New York

Featured WBC Pro Bout:
Featherweight bout at 126lbs (5x3 minute rds)
Tony Manoharan of Canada    vs     Ognjen Topic of Lodi NJ

Plus 12 exciting amateur bouts to round out this Historic event !

Besides the stacked fight card we will have some legendary ex-fighters on our supporting cast for this event.

Coban(The Crusher) Lookchaomasaitong  will be the third man in the ring for all WBC Pro Bouts
Coban is a 5 time World Muaythai Champ and a 2 time Lumpini Champ

Kaensak Sor Ploenjit will be judging
Kaensak is a former Ratchanamdern and Lumpini champ as well as being the first fighter to be voted Fighter of the year 2 years in a row.

Live Streaming Webcast -PPV $9.95:  GoFightLive.TV
Check out this amazing highlight reel of Warrior's Cup XII referee Coban (The Crusher) Lookchamasaitong.  This is one show you do not want to miss!