Wednesday, 21 September 2011 09:31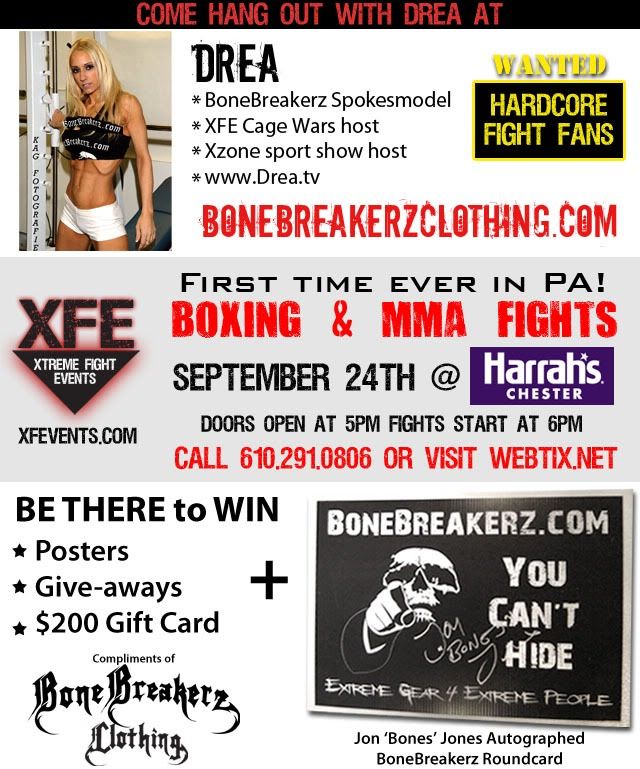 CHESTER, Pennsylvania, [September 19, 2011] – For the first time ever in Pennsylvania, Pro Boxing fans and Mixed Martial Artist (MMA) fans will have the chance to witness both sports in one night. Harrah's Casino in Chester, Pennsylvania will host Fall Brawl, a double header event with six Pro Boxing and ten MMA bouts on September 24, 2011. Xtreme Fighting Events (http://xfevents.com/) and main sponsor BoneBreakerz Clothing are promoting this unique event for fans of boxing and mixed martial arts to come together and watch the matches with intense sporting enthusiasm.

"I'm a former Pro Boxer and a lifetime fan. I was blown away by the action I saw in my first MMA event," states David Feldman, Xtreme Fighting Events' President. "I loved how my craft of boxing was in the sport of MMA and I believe this event will open the doors of many other boxing fans to see how valuable the sweet science actually is in mixed martial arts."
Also attending Fall Brawl will be BoneBreakerz spokes model, Drea (http://drea.tv). Drea and the fighters will be available for fans to hang out with during the after party at C Bar in Harrah's Casino.

"I'm very excited for this event. Being a former boxing-round card girl, I loved the passion the fans had directed towards the individual fighter," stated Drea. "While working at MMA fights over the past three years, I see the exact same passion and love for the fighter entering the cage. I believe after Boxing and MMA fans get exposed to this event, they won't see two separate sports, just two individuals battling to see who the best is."

Since the increasing popularity of the Ultimate Fighting Championship (UFC), a debate has been lingering over whether Mixed Martial Arts events will conquer boxing events. But recent Pay-Per-View boxing events show the sport of boxing still has a tremendous fan base.

Boxing and Mixed Martial Arts are combat sports and have a separate distinctive fan-base. The two sports have loyal fans who are cautious about crossing over, while other fans are able to be just as fanatical with both sports. Xtreme Fighting Events organized Fall Brawl to give the fans in both worlds of Boxing and MMA a chance to be in complete contact-sport pandemonium.

To learn more about this event and upcoming events, please visit Xtreme Fighting Events, http://xfevents.com.