Friday, 10 June 2011 07:18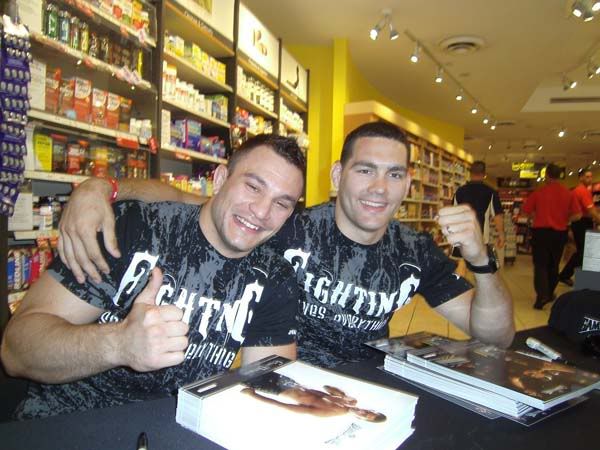 Note: Kristen Brown is a new writer here and this is her first article.  She lives and trains in New York and will be covering the NY/NJ MMA scene for our humble website.
** **
Chris Weidman and Gian Villante, two accomplished collegiate wrestlers, have made a name for themselves as the next generation of Long Island MMA fighters, following in the footsteps of Matt Serra and Pete "Drago" Sell. Their stories of success and their rise to fame are strangely similar. Their friendship is one based on admiration, mutual respect, and of course their ability to make each other and everyone else around them laugh.
I had the pleasure of interviewing both fighters at an autograph signing for fans this past Saturday at the GNC at Roosevelt Field Mall in Garden City, NY, and there was no shortage of humor, often at each other's expense. In between talking with fans, signing autographs, and dealing with my hard hitting questions, the back and forth banter was constant. Which guy's handwriting was more like a 5th grader's, (both agreed that honor belongs to Chris) who's better looking, (that one is still undecided) and the infamous wrestling rivalry between MacArthur High School in Levittown, where Gian went to school, and Baldwin High School, Chris's alma mater.
"Complete domination" is how Chris Weidman recalls his defeat over Gian Villante when the two wrestled each other in high school over ten years ago. Gian attributes this loss to the fact the he is a year younger than Chris, and says, "He won't ever let me live it down." Maybe it was this loss that inspired Gian to move up to 215 pounds his Junior year. He would eventually find great success over the years fighting at both light heavy weight and heavy weight.
After high school, Gian and Chris both wrestled at Hofstra University, where Gian also played football, and their ties to the university remain strong to this day. However, it wasn't until after college and their careers in MMA began, that the two would become such close friends. Gian says, "We were going through the same thing at the same time, so we leaned on each other."
Within only three months of training Brazilian Jiu-Jitsu with Matt Serra at his school in East Meadow, Chris competed in  Grapplers Quest. He defeated all thirteen competitors, won his weight class and the absolute division. However, he decided to stop BJJ, to coach wrestling at Hofstra and to try out for the 2008 Olympics. An injury forced him to rethink his future plans. He could "continue coaching, wait until the 2012 Olympics, and try out for the Worlds" or as he humbly puts it, "I did pretty good at this Jiu-Jitsu thing (that) summer, maybe I should just get into this MMA stuff."
I guess you could call getting your blue belt in around three months, and then getting promoted to purple belt by John Danaher "pretty good." On the other hand, when discussing BJJ, Gian jokes, "I don't even think I am any belt, but I did win the blue belt Pan Ams last year." Belt or not, he got his first fight also after only three months of training and won his next six fights in the first round by KO or TKO. "It was like two months then fight, two months then fight, not a lot of learning time."
He now appreciates the time off in between fights so he can focus on developing his skills, which he does at Bellmore Kickboxing Academy with his trainer Keith Trimble. Chris trains with Matt Serra and also at Ray Longo's Mixed Martial Arts Academy in Garden City. Chris and Gian became training partners, and they have helped each other establish a successful winning record over the past few years.
Both have held titles in Lou Neglia's Ring of Combat. Back in February of this year, their lives would once more take a similar turn, as their dreams of making it to the big time came true. The very same day that Gian was to be making his Strikeforce debut against Chad Griggs, Chris got the call to about his first UFC fight with veteran, Alessio Sakara. Gian say's the fact that "Chris found out about his fight the night I was fighting was something very cool." Unfortunately for Gian, though, his first fight did not go as he hoped. "I never really felt nerves like that before in my life. There's no real excuses why you lose a fight. You go in there, and you're fighting and there's still just you, another guy and a cage. It's something that I learned from."
With just 2 and ½ weeks notice and an injured rib for the Sakara fight, and just three weeks of preparation for Chris's prior fight, Weidman was making a name for himself as the one to call if a fighter got injured. In the Sakara fight, he won all three rounds, dominating the second and third with his takedowns and his impressive ground and pound, earning a unanimous decision. "I was going up against one of the best strikers there is in MMA." However, he does admit that his striking may have been "a little stiff, a little sloppy" due to the injury and lack of sparring in his training.
For his upcoming fight this Saturday, June 11th with Canadian Jesse Bongfeldt (15-4-1) Chris has finally had a full training camp. He says that "Longo did a great job and Matt did, and got me to peak at the right time." His weight is spot on, he is injury free, and his "ribs feel perfect, I haven't had an issue with them this whole camp." His trainer, Ray Longo, believes that, since his last fight Chris has "improved in all areas; striking, conditioning, and Jiu-Jitsu." He also believes that "as long as Chris controls the pace of that fight, he will win." Chris says, "I feel so pumped I just want to go in there already and fight."
Just two weeks later, Gian will face his next opponent, undefeated Lorenz Larkin, on June 24,th in Kent, Washington. Gian plans on "making it an exciting fight, us together make an exciting fight. He's pretty tough, I know I'm tough. I plan on going in there and slugging." Gian normally walks around at about 230 pounds and he fought his Strikeforce debut at heavy weight. With his upcoming fight Gian will be returning to light heavy weight, which he prefers. "I'm a big guy but I feel better when I get low, feel more comfortable, get more strict with my diet and more strict with my conditioning." But of course he wouldn't turn down an offer to fight back up at heavy weight if it came his way. He has also been training with Serra a lot and says "I'm hoping to show some of that stuff in the ring next fight."
The two have never missed one of each other's fights, but due to training for his fight with Larkin, Gian says, "this will be the first fight of Chris's that I miss." In fact, in addition to trainer, Keith Trimble and Kenny Willis, who helps with his wrestling, Chris acts as one of his corner men. Oddly enough, Chris will also have a change in his corner for this Saturday's fight. Usually it is Matt Serra, Ray Longo, and Pete Sell, however, Drago will be making his long awaited return to the ring, fighting on June 17,th at the Ring Of Combat in Atlantic City. In his place is Hofstra's Assistant Wrestling Coach, Terry Madden.
Their pride for their wrestling and now MMA, and their pride of being New Yorkers is palpable. With the battle to legalize MMA in New York taking center stage, these two guys are exactly what the public needs to see; fighters who are talented athletes, college educated, funny, family men, who feel it is their responsibility to give back to their community whenever they get a chance. Chris used to coach pee wee wrestling in Massapequa, and currently teaches MMA wrestling at Longo's school. Gian still keeps in touch with his high school wrestling coaches and he teaches a freestyle wresting clinic for kids, as well as a two week camp during the summer.
Although Gian doesn't have any kids of his own, he has a niece and nephew who he describes are "the loves of (his) life" and he is definitely "Uncle Gian" to Chris's beautiful 15 month old daughter, Cassidy. Even after training two to three times a day together, Gian says it's their "easygoing personality" that allows them to hang out outside of that. He says, "I don't think we're these tough guy MMA guys, that have tattoos everywhere, on their face and scare you off. The longer we're in this and the better we get, it's going to show people. And the more fans we get, it will be great for the sport and great for us, because it will show them what kind of people we are; good, normal, cool, people."
And that is exactly how I found them to be, such down to earth normal guys, who just happen to make their living as fighters. This can only help MMA, and not just it's cause in New York, but people's overall perception of the sport. They have had such success fighting with Ring of Combat in New Jersey and Connecticut, Gian feels that it's "sad to say for me that I consider Jersey my home for fighting and that stinks." The prospect of one day being able to fight in their home state is something they look forward to and strive for. Chris has been so busy training but uses social networking to try and reach the public and make them aware of these issues. For Chris, being able to one day fight in New York, "gives me chills just thinking about it." I think Longo puts it perfectly when he says, "The pinnacle of any fighter's career would be to fight at Madison Square Garden."
Not much has changed for both guys since making it into two of the biggest fighting organizations that have ever existed; UFC and Strikeforce. They are a little more recognizable and Chris recently bought a house. Although, he would like to state for the record that there is in fact an apartment in his parent's house where he has been living. He would also like to make it known that, "it has yet to be documented that Gian is still in his parents house." So you heard it here first, folks! But it doesn't bother Gian in the least and he chides back, "I have no problem with that, I'm saving every dollar I get!"
It is only a few minutes later that a young fan approaches and asks for their autograph for his brother who will be wrestling the following year at MacArthur High School. Of course Chris is quick to point out the losing record between MacArthur and his old high school. "I hope he doesn't wrestle Baldwin, because so far the record's not looking too good, at least not at this table anyway!" Gian just shakes his head and laughs and they go at it again. So with the UFC acquiring Strikeforce, will there finally be a rematch a decade in the making? Will Gian finally get that looming L off of his record or will Chris retain his bragging rights? Well, fight fans, I was assured that a Weidman / Villante fight is one fight that we will never see. Guess we will just have to leave that teammate drama up to Rashad Evans and Johnny Bones Jones..