Friday, 01 July 2011 11:08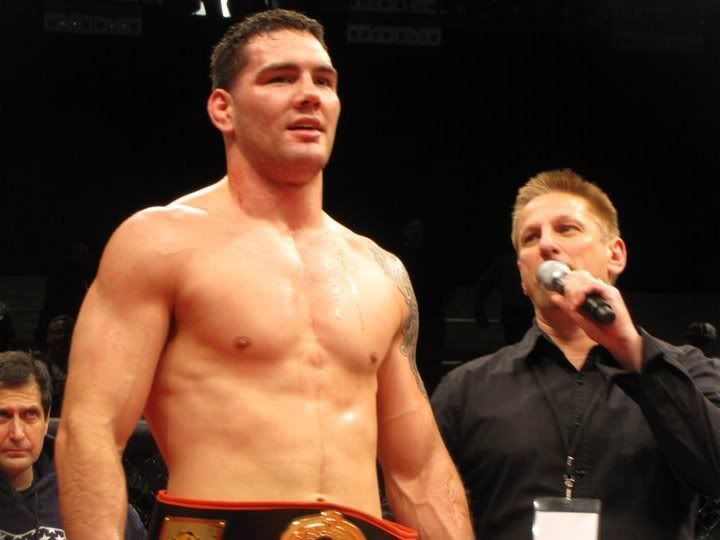 Excellent article at LIHerald.com the other day by Steve Siniski about Long Island fighter Chris Weidman.  Chris is undefeated in his MMA career and is 2-0 in the UFC.  He looked great in both his UFC fights and in my opinion is destined for greatness.  Here's the article:
** **
The State Assembly remains conflicted when it comes to legalizing the sport of mixed martial arts, but that hasn't stopped a growing list of local fighters from entering the octagon in surrounding states and generating excitement.
Baldwin's Chris Weidman, a state high school wrestling champion at 189 pounds in 2002, has become one of the fastest-rising stars of the Ultimate Fighting Championship series after winning his first two bouts, the latest a first-round submission of Jesse Bongfeldt on June 11.
The transition from wrestler to practitioner of Brazilian jujitsu has been swift for Weidman, who earned his state wrestling title in front of several thousand fans. His victory over Bongfeldt was seen by more than 1.6 million people on Spike TV and an additional 14,635 live at the UFC 131: Dos Santos vs. Carwin in Vancouver, B.C. Weidman's rapid development (he's 6-0 professionally with a Ring of Combat middleweight championship) has prevented him from sneaking up on anyone, but that may be a good thing in the UFC, where popularity on Twitter (Weidman's Twitter tag is @ChrisWeidmanUFC) can lead to monthly financial bonuses.
"He was a kid who worked hard every day and wants to be the best," said Mike Robinson, who coached Weidman as a junior varsity wrestler for the Bruins and, later, on the varsity, as an assistant coach. "That's his mindset, and he's had that all the way from middle school through high school and college."
In some respects, it's the mental makeup of the 6-foot-2, 186-pound middleweight that has already helped him push his way into the spotlight. His UFC debut against Alessio Sakara, on March 3, came with just three weeks' notice, as Weidman was trying to heal a fractured rib. He jumped at the chance to fight and won a unanimous three-round decision over a veteran opponent with 22 MMA fights and 11 UFC bouts to his credit.
"That was the toughest because I had the fractured rib," Weidman said. "But I knew it was a huge opportunity, and my coaches believed I could win it on talent and toughness."
Read the rest here: 
Chris Weidman Fights Way to Top