Wednesday, 14 July 2010 10:55
Eric "Butterbean" Esch has put himself at odds with Moosin officials when he criticized 5-time World's Strongest Man Mariusz "Dominator" Pudzianowski.
Moosin officials believe in Pudzianowski and want him featured on their proposed October 9 show in Chicago. Butterbean, who works for Moosin, doesn't see it that way.  He thinks Mariusz did not earn a second shot.
I know he allegedly broke his foot in the fight against Sylvia, but he didn't show anything before he quit. Pudzianowski has no stand-up and as strong as he is, he punches like a girl. All he does is throw arm punches. He needs a lot of help. He's the 5-time World's Strongest Man but hits like a 130-pounder, not a strong man who weighs 270 pounds. He doesn't have the skill level to get to the level he wants to fight.

Once he gets a stand-up game – you can't have a ground game working without one – he could be a force in MMA. He still needs some work on his ground game, too. We all know he's very strong but that's not enough at the highest level of MMA. I don't know who has been coaching him but that trainer should be fired. Pudzianowski needs to prove himself, showing he has a good stand-up game by beating a good MMA fighter, before he gets another big fight like a spot on the October 9th show.
Strong words from Butterbean, who took similar criticism when he became an MMA fighter.  Actually, people used to say that Butterbean didn't even deserve to be in the boxing ring, so clearly he has knows from whence he speaks.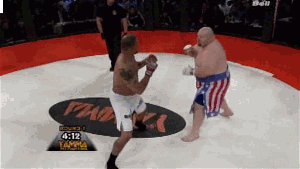 For his part, Mariusz seems to be taking MMA seriously.  He  is reported to be training hard in his native Poland and is due to arrive in Massachusetts by the end of July to begin training with former boxer "Irish" Micky Ward.  He will also be working on his ground game with two former All-America wrestlers
The timing of Butterbean's comments are interesting, based on the fact that there is serious speculation that Moosin is trying to make a Pudzianowski vs. Kimbo fight.  If they can come to terms, the fan interest should easily supercede any of Butterbean's concerns and this fight will be a go for October.  We'll keep you all posted as the situation develops.
(HT: Bob Trieger Full Court Press)