Tuesday, 23 August 2011 12:08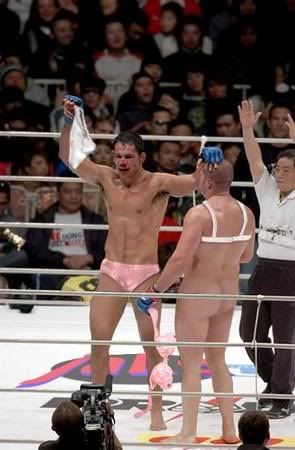 A RearNakedJoke.com Exclusive
Antonio "Big Nog" Nogueira, the Brazilian MMA legend, caused quite an uproar recently when he said that he'd rather not train with gay people.  In an interview with UOL Sports, (translated by Tom Mendes of Bloody Elbow) Nogueira said:
"I have no prejudice against the gays, but I wouldn't train with someone who's gay.  I have no malice, I don't take our physical contact as (something) sexual.  But what if the gay person has that malice of having physical contact with me, of staying there grappling?  I would have no problems having a gay student in my academy, but I would rather not train with him."
This statement set the MMA blogs and forums on fire, and there has been much discussion about the topic.   Now, in an exclusive interview with RearNakedJoke.com, Nogueira sets the record straight.
"I have my reasons for not wanting to train with gays," he told our Brazilian correspondent.  "And it goes back to Japan.  It's very difficult to talk about, but the truth must be known."
Nogueira went on to drop a bombshell.  He said that there was a secret fourth fight with Fedor.
It was actually our first fight," he explained.  "It was a private match held for Yakuza bosses in Tokyo, Japan.  There were special rules.  They called it a 'panty-grab' match, and I was victorious.  But the emotional scars it left have never healed.  I wish I could go back in time and undo that fight, but what's done is done."
Antonio took a break from the interview for several minutes to compose himself.  When he returned, he detailed the match.
"They dressed us up in bras and panties," said the former Pride champion, his voice cracking with emotion.  "The goal was to snatch your opponent's panties off before he snatched yours.   Punching, kicking and grappling were allowed.  The Yakuza said that if we didn't do it, we'd never fight in Japan and perhaps  never again anywhere.  There was really no choice."
He shook his head disgustedly and paused to find the right words.
"They don't call it Pride for nothing,"  he continued.  "The match made me question by own sexuality. And it made me feel dirty.  The only other time I felt that dirty was when I fought Tim Sylvia and he sharted on me.  I blame the Yakuza for my homophobia."
The match was not filmed, and only one picture of the fight is known to exist.  That photo was  smuggled out of Japan in a jar of wasabi.  We now present it to the world as evidence that Antonio Nogueira is not a homophobe, he is a victim.  We hope this clears up the matter and wish Antoinio good luck in his upcoming fight against Brendan Schaub this Saturday at UFC 134.